The 38TH ANNUAL DAYTIME EMMY AWARDS
On the Red Carpet: Scott and Melissa Reeves
by
Dan J Kroll

Posted Saturday, June 25, 2011 1:32:10 AM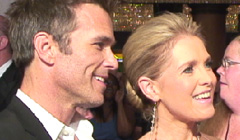 Exclusive video coverage from the 38th Annual Daytime Emmys. Join soapcentral.com's Dan J Kroll, and special correspondent Martha Byrne as they chat it up with the biggest names in daytime television.
Real-life couple Scott and Melissa Reeves talk about their daytime careers. Melissa shares thoughts on her DAYS family, and Scott confesses that he's not a doctor -- but he plays one on TV. Plus, there are some teasers about what is coming up for their characters.
EMMY VIDEO: ON THE RED CARPET

Michael Park
Jack Snyder, ATWT

Kristian Alfonso and Peter Reckell
Bo and Hope, DAYS

Daniel Goddard
Cane Ashby, Y&R

Wally Kurth
Justin Kiriakis, DAYS

Stephen Nichols and Pat Sajak
Tucker, Y&R/Patch, DAYS
and Wheel of Fortune host

Scott and Melissa Reeves
Steven, GH, and Jennifer, DAYS
More Red Carpet videos are on the way... keep checking back!

Marcy Rylan
Abby Carlton, Y&R
EMMY VIDEO: BACKSTAGE

Heather Tom
Katie Logan, B&B

Jonathan Jackson
Lucky Spencer, GH

Brittany Allen
Marissa Tasker, AMC

Scott Clifton
Liam Cooper, B&B

Laura Wright
Carly Jacks, GH

Maria Arena Bell
Executive producer and
head writer, Y&R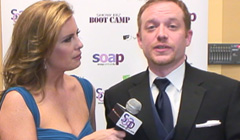 Tom Casiello
Writer, Y&R
Interviews with Y&R writer Tom Casiello, B&B exec Brad Bell, and Shemar Moore are on the way. Keep checking back!
Share this story with friends, family or the world.

SEND TO A FRIEND
Email this article to a friend.

PRINTABLE VERSION
View a printer friendly version of this article
---