The Daytime Emmys returned to Los Angeles this year, taking their place amid the glitz and glamour of one of the country's most famous zip codes: 90210. The Beverly Hilton provided a more intimate, sophisticated venue than the Las Vegas strip, which played host to the Daytime Emmys for the past two years.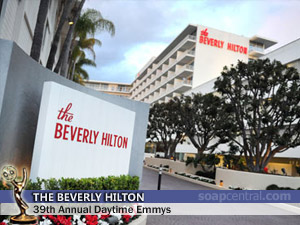 Though the ceremony returned home to Los Angeles, this marked the first time in the ceremony's 39-year history that the Daytime Emmys were broadcast on cable. The 24-hour news channel HLN stepped in to broadcast the ceremony after the major networks passed on airing the awards show because of the increasing costs of putting the show together.
"What an exciting night for the Daytime television community," said Malachy Wienges, Chairman, NATAS. "Daytime television is well and prospering as witnessed by this overwhelming turnout honoring the best that television can be. Working with our production and broadcast partners, LocoDistro and the HLN Network, we've delivered an evening that truly honors the outstanding work that happens day in and day out across all the genres that make up the Daytime viewer experience."
Indeed, the daytime community did turn out in force to celebrate the best of daytime television. The televised ceremony managed to squeeze 21 categories into the broadcast, and despite the fact that several of the night's winners were not in attendance, more than 1,000 attendees filled the International Ballroom at the posh Beverly Hilton.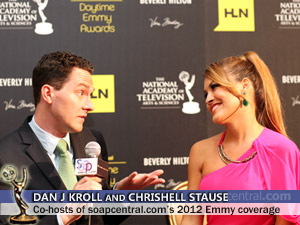 But some unfortunate pre-show drama threatened to cast a pall on the night. Beverly Hills police stormed the hotel just hours before the Emmy ceremony to investigate the apparent murder-suicide of what had been described as an "elderly couple." The identities of the 70-year-old man and 56-year-old woman are being withheld, pending the notification of relatives.
It was another somber pre-gala moment for the hotel. In February, singer Whitney Houston drowned in a bathtub in the hotel in the hours leading up to the Grammy Awards.
Though there was a brief period of concern that the Daytime Emmy ceremony might have to be postponed or delayed due to the ongoing investigation, the show did go on as scheduled. Each of the four remaining soap operas was honored during the two-hour Emmy presentation, with a little bit of history made along the way.