The 39TH ANNUAL DAYTIME EMMY AWARDS
GH's Jackson, Grahn earn second Supporting trophies
Posted Sunday, June 24, 2012 2:48:41 AM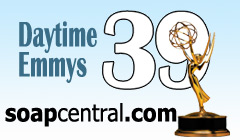 OUTSTANDING SUPPORTING ACTOR
Jonathan Jackson
(
Lucky Spencer
,
General Hospital
)
Of the five men nominated in the Outstanding Supporting Actor category, only one -- Jonathan Jackson (Lucky Spencer, GH) -- was a previous Emmy winner. Jackson, who picked up his first Supporting Actor trophy last year, was awarded back-to-back statuettes with a win this year.
Though Jackson is familiar in the winner's circle, the actor ceded that hearing his name is still something of a surreal experience.
"Wow, it doesn't get any easier," Jackson said upon taking the stage to accept his Emmy. "It's been 19 years since I started as Lucky Spencer, and I feel just about the same as I did when I was eleven years old."
Jackson also took time to make special note of the relationship that he shared with his on-screen dad, Anthony Geary (Luke Spencer).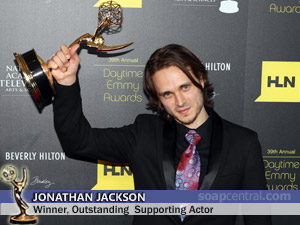 "This is a testament to Anthony Geary and his humility and his love and graciousness towards me. I want to thank Rebecca Herbst, all the actors of General Hospital, the directors, [former executive producer] Jill [Farren Phelps], Bob [Guza, GH's former head writer], my wife, my children, my parents, my brother, and my sister... I just have so many people to thank."
"It's an incredible thing that we do, putting 60 to 80 pages a day on the air," Jackson continued. "It's insane, and I'm humbled to be here, so thank you all very much."
Jackson has now won five Daytime Emmys. The actor won three wins as Outstanding Younger Actor in the 1990s. Jackson left daytime before graduating out of the age-restricted Younger Actor field. His nomination (and subsequent win) in the Supporting Actor category last year was his first in the category.
Jonathan Jackson's win gave General Hospital its ninth win in the Supporting Actor category, the most of any soap.

Photo Credit: Kat Guarino/Soap Central
OUTSTANDING SUPPORTING ACTRESS
Nancy Lee Grahn
(
Alexis Davis
,
General Hospital
)
Until only about a month ago, the daytime world didn't know if there would be a televised Daytime Emmy ceremony. With so much uncertainty, many of the performers had already made plans to be elsewhere by the time it was announced that the show had found a home.
Grahn had a previous commitment that prevented her from attending the Daytime Emmy ceremony, but the actress promised that she'd "live tweet" on Twitter with fans. And the actress did not disappoint.
"OH MY FRIGGIN GOD!" Grahn posted upon hearing her name announced as the winner. "I've never won an Emmy in my jammies before. Weird and cool all at the same time."
"I honestly didn't think I had a chance," Grahn offered candidly. The actress had previously told Soap Central that she only had one or two episodes that she felt were worthy of Emmy consideration.
Grahn also made sure that fans got to know who she was wearing. The actress posted a photo of herself on Twitter with a notation that she'd be "wearing Target for the show and JC Penney for our after party."
Grahn is a previous Emmy winner, but this is the first win for her work on General Hospital, and the first time that Grahn didn't have to share the award with anyone. In 1989, Grahn, who was then part of the cast of Santa Barbara, tied with All My Children's Debbi Morgan (Angie Hubbard) for the win in the category.
Grahn had an additional Supporting Actress nomination in 2000, and three consecutive Lead Actress nods in 2003, 2004, and 2005.
Photo Credit: Nancy Lee Grahn