OUTSTANDING YOUNGER ACTOR
Chandler Massey
(
Will Horton
,
Days of our Lives
)
When the National Academy of Television Arts & Sciences changed the Emmy voting process in 2003, it was brought about, in part, by claims that the process was unfair and that "familiar names" often made it to the ballot based solely on how recognizable their faces were. Though the successfulness of those changes may be debated for many years to come, this year's Outstanding Younger Actor category was guaranteed to produce a first-time winner.
None of the four nominees had ever won a Daytime Emmy. In fact, two of the nominees were first-time nominees; the other two nominees received just their second nominations this year.
The nominees' reels spanned a wide array of topics -- murder, sexual assault, coming out, and substance abuse.
Days of our Lives' Chandler Massey (Will Horton) edged out the other nominees in what was truly a tough-fought and close competition.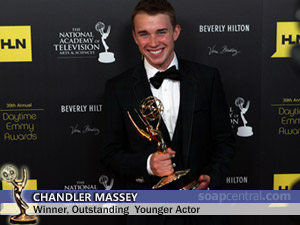 "Wow. Oh, my gosh. Oh, my goodness," Massey said in an obvious state of amazement. "First of all, I'd like to thank all the producers and the writers. It's such a joy to come to work every day. And the wonderful cast. And personally my mom and my dad, thank you for being here. And yes, this is an honor. Thank you so much."
Massey also made sure to note that his mom had played an even bigger part in his Emmy win: she helped him pick which episode to submit for judging.
"I chose that episode because I asked my Mom what her favorite episode was," Massey explained. "It was scenes with Will and Marlena sorting through why his relationship with Gabi didn't work. It was not really dramatic, but I like that stuff where it's a heart-to-heart [discussion]."
Massey also made sure to note that his work on Days of our Lives is a groundbreaking first for the long-running soap.
"It's an honor to be just a small splash on the canvas. I'm honored to be part of [DAYS'] first gay storyline," Massey beamed.
Only one other performer -- All My Children's Eden Riegel (Bianca Montgomery) -- has been awarded an Emmy for playing a gay character. She earned her Emmy in 2005.
In the past 24 years, Days of our Lives has won the Outstanding Younger Actor category just three times. In 1988, Billy Warlock (Frankie Brady) won the honor, and in 2009, Darin Brooks took home the honor.
OUTSTANDING YOUNGER ACTRESS
Christel Khalil
(
Lily Winters Ashby
,
The Young and the Restless
)
Like their male counterparts, the Younger Actress nominees all went into Emmy Night winless. Three of the nominees had been nominated before. The Bold and the Beautiful's Jacqueline MacInnes Wood (Steffy Forrester) was a first-time nominee. When the envelope was opened, The Young and the Restless' Christel Khalil (Lily Winters) -- the most nominated of the four candidates -- was awarded her first Emmy trophy.
"Wow. I guess fourth time's the charm, huh? I want to say thank you to Maria [Bell] and the writing team for writing such a great storyline and to all of my fellow castmates and my mom, who's here, I love you," Khalil said upon accepting her award.
Backstage, Khalil explained that there was never any doubt about which episode she'd choose for her Emmy reel: an episode in which her character, Lily, continued to be "haunted" by her dead husband, and worried that she was losing grip of her sanity.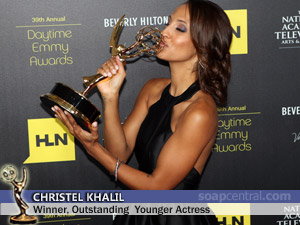 "When I did that scene even when they said cut, I stayed in Daniel [Goddard]'s arms because I couldn't stop crying," Khalil reflected.
Khalil was jubilant, confident, and even somewhat uncensored as she talked about the elation she felt after having been nominated three previous times, yet going home each of those times empty-handed.
"I've had a little too much champagne," Khalil chuckled. "I probably shouldn't be up here."
Asked if she thought that her Emmy win would give her more on-screen time, Khalil nodded and said that she certainly hoped so. In the past year, Y&R has added numerous All My Children veterans to its cast. The influx of new faces has, according to Khalil, allowed her to make some wonderful new friends, it has also had its downside.
"The only [bad] thing is that means less stories for us," Khalil said, referring to the sidelining of some of the show's more established characters. Khalil added that her ex-husband was taking care of her child for the evening, "for once," and joked that instead of celebrating her win with a trip to Disneyland, she was headed to the bar.
Khalil's win adds another name to the already impressive list of winners from The Young and the Restless' fictional Winters family. Kristoff St. John (Neil Winters), Shemar Moore (Malcolm Winters), and Bryton James (Devon Winters) have all picked up Emmy hardware for their work on the show.