The 39TH ANNUAL DAYTIME EMMY AWARDS
Tony Geary, Heather Tom set Emmy records with wins
Posted Saturday, June 23, 2012 8:39:20 PM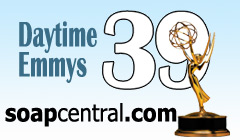 Anthony Geary
(
Luke Spencer
,
General Hospital
Emmy viewers who tuned in to this year's broadcast late may have missed General Hospital's Anthony Geary (Luke Spencer) pick up his record-breaking seventh award. In a surprising shuffling of the traditional awards show order, the Outstanding Lead Actor category was the first award handed out. Even Geary seemed taken aback, as he meandered through the International Ballroom towards the stage.
"Wow. Thank you so much. Wow. I got lost, which I tend to do," Geary explained as the timer counted down on his allotted speaking time. "John McCook, Bobby Woods, Darnell Williams, Maurice Benard... you're all dear friends of mine and I admire you all very much and I feel a little bit guilty here; I think you [were] all robbed."
Geary took time to note that his win was part of a broader recognition that soap operas, particularly General Hospital, are still relevant.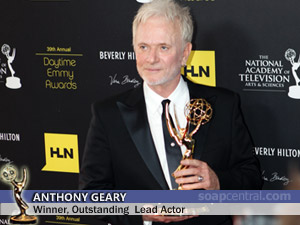 "We have 23 nominations, which is pretty amazing, since last year we were almost cancelled in favor of celebrity boob jobs gone wrong," Geary said speaking for his General Hospital family. "I would like to thank the hard-working cast, crew, and production team of GH. I would like to thank Jill Phelps for three decades of friendship and support. I'd like to thank Bob Guza for throwing my character into the existential abyss and giving me the blackest story [I could] have ever hoped for. I would like to thank all of my directors who always seem to come down on my side when the chips are down. And finally to the finest acting team and acting family a guy could ever ask for in Jonathan Jackson, Julie Berman, and Nathan Parsons, and the incomparable Jane Elliott.
Backstage Geary was asked if he'd ever worried that his self-proclaimed darkest material might alienate fans who had otherwise rooted for Luke over the years.
"I have been begging Bob [Guza, GH's former head writer] and a couple other producers to explore Luke's dark side. Bob came up with an amazing dark story. I never think about the audience -- I never have. I always think about how I can film the material," Geary explained. "I love the audience, they have been very good to me, but I don't work for them. I work for the scripts and my own [set] of ethics of the character, and so far the audience has understood."
Geary duly noted that his on-screen persona has never been the epitome of a cowboy riding in to save the day; his character was introduced as a rapist.
Geary's seven wins in the Lead Actor category are a record. Prior to the win, Geary and One Life to Live's Erika Slezak (Viki Lord) were tied with the most wins in a single category.

IN-DEPTH: Find out which other actors have been named Outstanding Lead Actor.

OUTSTANDING LEAD ACTRESS
Heather Tom
(
Katie Logan
,
The Bold and the Beautiful
)
Each of the remarkably talented actresses in this year's Outstanding Lead Actress category had a chance to make history.
Crystal Chappell is the only actress to win a Daytime Emmy for her work on a television and web-based soap, and was looking to become only the second-ever DAYS actress to win a Lead Actress trophy. Erika Slezak, who already had notched a record-setting mark of six Lead Actress wins, hoped to add to the incredible tally. Debbi Morgan was hoping to become the final performer to win an Emmy for All My Children. Laura Wright was poised to become the first General Hospital actress to win more than one Lead Actress award.
While those four women didn't make the record books, The Bold and the Beautiful's Heather Tom did. Tom's win completes the Emmy trifecta: she's now won the Lead, Supporting, and Younger Actress categories. No other daytime performer has accomplished that feat.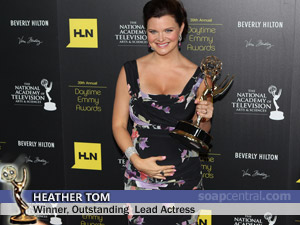 "Um, woo. My baby is going crazy right now," the pregnant actress mused as she pumped a celebratory fist into the air to demonstrate what she was feeling.
"Thank you to everyone in this room. I'm so grateful to call you my friends and my colleagues. I'm so proud to be a part of the daytime community. I'm so proud of the work that we do every day, and I think we should all feel that way. Brad Bell, thank you so much for being my friend, for being the best boss a girl could have. You set the tone at The Bold and the Beautiful and you make it a wonderful place to come to work."
"Thank you, Don Diamont, I would not be standing up here without you and I would not be standing up here without you and the entire cast," Tom added. "And my love, my husband, James, thank you for so many things, not the least of which is kicking me right now."
Backstage, Tom marveled at her record-setting Emmy win.
"It's kind of crazy that I've been doing this long enough to actually have [had] a shot at that," she said with incredulity. "I felt like I had a story that warranted a Lead Actress try [and] I felt like I've been doing this for 22 years, so why not?"
Heather Tom has received Emmy nominations for every soap role she's played. Her love affair with Emmy started in 1993 with her first nomination -- and win -- in the Outstanding Younger Actress field for her work as The Young and the Restless' Victoria Newman. Tom's first Outstanding Supporting Actress nod came in 2005 when she played Kelly Cramer on One Life to Live. She picked up her first win in the category at least year's Emmy ceremony. This year marked her first Lead Actress nomination.