General Hospital
In a sign that daytime drama series are not, perhaps, the dominant force that they have been in the past, this year's Daytime Emmy telecast was expected to make a major change to when the Outstanding Drama Series winner was announced. Typically, in years past, the category was the final award of the night. This year, that was to have changed, and the Outstanding Morning Show category was expected to close the show. That decision was reversed before the broadcast, and the Outstanding Drama Series category took its rightful place as the evening's big cliffhanger.
For the past three years, The Bold and the Beautiful has had a stranglehold on the Outstanding Drama Series title. This year, though, the 30-minute soap did not make the final cut, opening the door for another soap to reclaim the top honor. For All My Children, it marked a chance to win in its final year of eligibility. ABC canceled the 41-year-old soap last year. Days of our Lives had won the top show title just one before -- way back in 1978. Though it's been the top-rated soap for more than two decades, The Young and the Restless hasn't been named Outstanding Drama Series outright since 2004. (The show tied with Guiding Light for the honor in 2007.)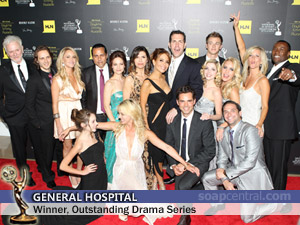 In the end, General Hospital scored its eleventh win in the category. It's the most of any soap, and General Hospital is the only soap to have a double-digit tally in the category.
"On behalf of everybody at General Hospital, thank you all so very much," former executive producer, Jill Farren Phelps, said in her acceptance speech. "From the first floor to the fifth floor and all of the incredibly talented people in between, this belongs to you. I'd like to thank three fabulous producers: Mercer Barrows, Michelle Henry, and Mary O'Leary, and the outstanding directing team. They're outstanding. Bob Guza and his brilliant team of writers, a company of actors who have touched so many hearts for so many years and who have certainly captured mine."
Phelps's speech was capped off with an atypically emotional remark, a nod to Phelps's ouster from GH as part of an attempt to spare the 49-year-old soap from cancellation.
"Somebody told me that the best stories are the ones that never end, and so from the old guard to the new guard and to all of my friends, keep the magic going."
Phelps did not meet with the media after accepting the award. Instead, General Hospital cast members made the rounds and posed for pictures.

A COMPLETE LISTING OF THE WINNERS AND NOMINEES