OUTSTANDING SUPPORTING ACTOR
Scott Clifton
(
Liam Spencer
,
The Bold and the Beautiful
)
Billy Miller
(
Billy Abbott
,
The Young and the Restless
)
Ties, particularly in the acting categories, are rare. But for the second time in four years, two of the nominees in the Outstanding Supporting Actor category ended up taking home a golden statuette. In a strange twist, one of the winners of that co-Emmy title was nominated again this year.
After going 0-for-4 in the Younger Actor categories, and having been nominated for his work on two other soaps (General Hospital and One Life to Live), Scott Clifton won his first Daytime Emmy in 2011 for his role as Liam Spencer on The Bold and the Beautiful. This year marked his first nomination as a Supporting Actor, but Clifton didn't need to worry about a similar winless streak to start his run in the category.
"I did not think this was going to happen," Clifton admitted. "Okay, first thing I want to say is [that] I'm so complimented to be in this category with the gentlemen alongside whom I am nominated. Jeff, Bradford, Billy, you guys humble me. You guys impress me so much, and I just love being in this category with you."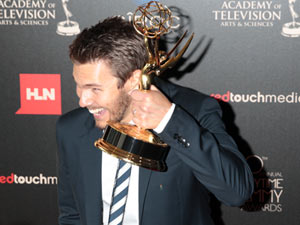 Just seconds later, The Young and the Restless' Billy Miller also had his name called as a winner in the category. It was Miller's second win in three years. However, the actor didn't have to worry about coming up with an acceptance speech on the fly. Instead of waiting for the first winner to finish their acceptance speech, this year Miller was called to the stage even before Clifton started his speech. Clifton also seemed unaware that he was to share the allotted time for his acceptance speech with Miller, for which the Y&R actor ribbed Clifton when he accepted his award.
"I'm going to make this brief because, you know, look, I thought that Scott had the whole time," Miller said with a chuckle. "I'm just happy to be here with him. Thank you, Young and Restless. Thank you writers, producers -- past and present."
During their on-stage post-win interview with Giada De Laurentiis, Miller and Clifton pretended that their Emmy trophies were fighting with each other. That playful mood stayed with them some 15 minutes later when they made their way -- individually -- to the pressroom.
Asked how he felt about sharing his Emmy, Miller made something of a Freudian slip.
"How do I feel about Sharon?" Miller asked, referencing a character on Y&R. "What year on the show? Back when I slept with her. Oh, sharing? Oh, there's a foot in your mouth."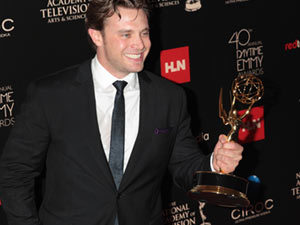 Miller stated that he believed that Clifton was the hands-down winner in the category and that he did not expect to hear his own name called. Like Miller, Clifton was also quite happy to share the award.
"Think of it this way. Best possible situation? You win," Clifton offered. "That means that three other people that you love and respect don't win."
Clifton joked that his acceptance speech was a "terrible, rambling mess" and asked for mercy on his soul. "I'm just the worst Emmy accepter ever!"
Backstage, Clifton thanked B&B writer Patrick Mulcahey for having written the scenes that won him his Emmy, "Patrick gets father/son relationships so well, so intimately. It just cuts to the core of you."
General Hospital's Bradford Anderson, the most-nominated performer in the Supporting Actor category, was also the only nominee not to have an Emmy win. Jeff Branson, the fourth of this year's nominees, tied as Outstanding Supporting Actor in 2009 with actor Vincent Irizarry.

Photo Credit: Kat Guarino/Soap Central
OUTSTANDING SUPPORTING ACTRESS
Julie Marie Berman
(
Lulu Spencer
,
General Hospital
)
In a between-segments bit that ran throughout the show, last year's Supporting Actress winner, Nancy Lee Grahn, was shown in popular tourist spots around Los Angeles, asking passersby random questions or giving them a chance to give an Emmy acceptance speech or to ask questions. In one, Grahn was asked if winning an Emmy meant that a soap actor would immediately be given a raise. Grahn shook her head and said that in many cases, performers had been fired after winning an Emmy.
And in many other cases, soap performers have departed their Emmy-nominated roles only to win an Emmy after the departure. That was the case this year as Julie Marie Berman picked up her first Outstanding Supporting Actress trophy. Berman was a previous winner, picking up two consecutive Outstanding Younger Actress wins in 2009 and 2010 before "aging" out of the category.
"I wasn't expecting that at all. The other nominees in my category are incredibly talented, so I'm very honored to be among all of you," Berman said at the start of her acceptance speech.
As she continued, Berman thanked her husband, Mike.
"I am indebted to you for the sacrifices you make for my insane love of acting. It's so rare to find someone who supports what you do so fully and someone who's willing to sit back and cheer their wife on, so I love you," Berman said as she tuned out the hundreds of people in the ballroom and focused solely on his seat in the room.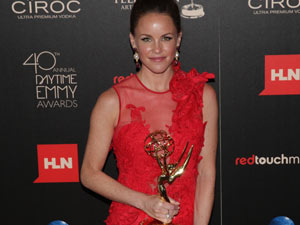 Berman then thanked her legendary on-screen father, Tony Geary, for not only the work he put in for her Emmy-winning reel, but also for the more than seven years that they'd worked together on General Hospital.
"And this is so special because it's supporting, and it means you can't do everything on your own, and I think of Tony Geary, who I shared these scenes with," Berman said. "And that man is so special to me, and those scenes were filled [with] trust and complete awe that I have for him as a human being. So Tony, I love you and I will miss working with you with all my heart. Thank you so much, General Hospital, for a wonderful ride."
With Berman's win this year and her former castmate Grahn having won last year, this marked the first time in 20 years that two performers from the same soap have won the Supporting Actress trophy in consecutive years. In 1992, Guiding Light's Maeve Kinkead (Vanessa Chamberlain) won, and the following year Ellen Parker (Maureen Bauer) took home the prize. General Hospital has now won the Supporting Actress category eight times, more than any other soap.
The Bold and the Beautiful's Katherine Kelly Lang (Brooke Logan) received her first nomination in this category after having portrayed Brooke Logan on The Bold and the Beautiful for 27 years.

Photo Credit: Kat Guarino/Soap Central