OUTSTANDING DRAMA SERIES
The Young and the Restless
This win is the seventh overall Outstanding Drama Series win for The Young and the Restless, and its first since 2007.
"I am so thrilled to be standing here representing the incredible artists on The Young and the Restless," executive producer Jill Farren Phelps said as those artists assembled behind her.
After thanking CBS Daytime and Sony Television executives, Phelps went on to thank her show's creative teams.
"This doesn't happen without a superb writing team. In fact, most everything doesn't happen without a superb writing team," Phelps noted. "So, thank you, Josh Griffith and my dear Shelly Altman [Y&R's co-head writers]. Jean Passanante. Tracey Thomson."
Phelps then thanked the directors of Y&R, saying, "I am so proud of what you do. Without you we would be a radio show."
As Phelps's acceptance speech continued, and she was thanking "this company of actors whose pride is unparalleled," an off-camera Kathy Griffin interrupted.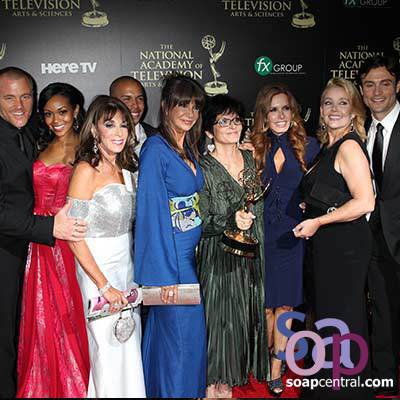 "For God's sake with your pride of ownership," Griffin groused. "Wrap it up, lady! Wrap it up! I get it. You're young and you're restless. You won."
A seemingly flustered Phelps fired off a so-called "F-bomb" in response to a similar bleepable moment from Griffin. As the two women appeared to be engaged in playful banter, Y&R's Christian LeBlanc stepped into the shot and took a "selfie" of the antics.
It's not the first time that Phelps has had her Emmy speech cut off unexpectedly. In 2005, Phelps's acceptance speech for General Hospital's win for Outstanding Drama Series was also memorably cut off when the show ran overtime.
Later, in the press room, Phelps admitted that she hadn't gotten to thank all of the people by name that she'd wanted, but noted, "I think they know who they are."
The Young and the Restless earned nine Daytime Emmy wins in 2014, more than any other drama series. Phelps said that much of the show's success has been built upon a foundation of history.
"I know that many [shows] have a long legacy, but this one has so much history," Phelps remarked. "We have so many characters that have been on for many years."
Phelps wrapped up her press room appearance with a request that fans and members of the media not be so critical of the long-running, top-rated soap, which has seen its first-place ranking in the advertiser-coveted 18-49 demographic erode.
"Be kind to Y&R," Phelps implored. "We're kicking ass."
» A COMPLETE LISTING OF THE WINNERS AND NOMINEES