OUTSTANDING YOUNGER ACTOR
FREDDIE SMITH
(
Sonny Kiriakis
,
Days of our Lives
)
Though Freddie Smith admitted to being "nervous and anxious" leading up to this year's Daytime Emmy Awards, once the news was official that he'd be taking home the gold in the Outstanding Younger Actor category, he immediately relaxed. "Now that it's real, it's all very kind of calming and relaxing," he told the press. "Now I'm just enjoying it, [and it's] great."
From the stage, Smith thanked "all the directors, producers, the actors, and the crew" of Days of our Lives. He took a few moments to specifically thank several of his costars: love interests Christopher Sean and Guy Wilson, and his on-screen parents Judi Evans and Wally Kurth.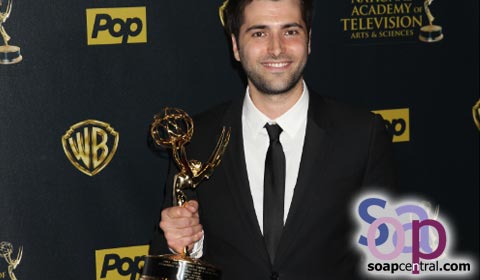 Though the highlight of the night for the Ohio native was winning the Emmy, having his real-life parents share in the experience was also quite special. "This means the world to them," he explained. "To see my dad so emotional when I won was a great moment. They're having a great time, and it made the evening very [memorable]."
The Emmy win was certainly an exclamation point on Smith's four-year run in daytime, but could it convince him to stay in Salem a little longer? Or is it further fuel to his post-daytime fire? "I think it's in between," he mused. "It's a great reminder of what a great family I had and what I learned, but it's also pushing me into the future, letting me spread my wings and go on and just see what else is out [there] for me. So it represents a lot of things -- the future and the past, if you will."
Smith is the fourth DAYS actor to win in the Younger Actor category, following Billy Warlock [ex-Frankie Brady] in 1988, Darin Brooks [ex-Max Brady; Wyatt Fuller, The Bold and the Beautiful] in 2009, and Chandler Massey [ex-Will Horton] in 2012, 2013, and 2014. Smith's win brings DAYS' streak in the category to four years in a row.
OUTSTANDING YOUNGER ACTRESS
Hunter King
(
Summer Newman
,
The Young and the Restless
)
"I'm a mother of two at [the age of] 21," joked Hunter King of her second consecutive Emmy win in the Outstanding Younger Actress category.
But while NATAS may have had to ante up and give the actress another award, she had to ante up and give something, as well: lunch to her costar, Bryton James [Devon Hamilton].
"We bet in the beginning, because he thought I was going to win," she explained in the pressroom. "And I said, 'No way am I going to win. I'm not going to win at all.' And now I have to take him out to lunch!"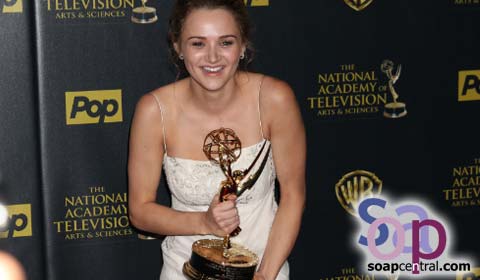 It's a small price to pay for the actress' second win in the category -- a triumph she did not expect to happen the first time, let alone twice in a row. "Last year I wasn't expecting it either, but for some reason, this year, I was like, 'I won last year. No way am I going to win,'" she said. "And I just sat there when my name was called, and I was like, 'What? Me? What?' I was not expecting it at all, and I had no idea what was going to come out of my mouth, but luckily it wasn't any curse words. It was, "˜I love you, I love you, I love you too!' So that's good!"
As for both herself and her costar, Amelia Heinle, winning twice in row, King says, "Amelia is my snowman, and I'm her chicken. I don't know why she's my snowman and I'm her chicken, but maybe it has something to do with our nicknames for one another?"
With King's second win, Y&R has now won eight times in the Outstanding Younger Actress category. Tracey E. Bregman (Lauren Fenmore) was the first Genoa City resident to win in the category back in 1985.