OUTSTANDING SUPPORTING ACTOR
Sean Blakemore
(
Shawn Butler
,
General Hospital
)
Being named Outstanding Supporting Actor at the Daytime Emmys is something that would surely be music to any actor's ears. Unfortunately, this year's winner's ears were not in attendance. Before you conjure up any Van Goghian imagery in your head, the rest of the winner's body wasn't there either.

The winner, General Hospital's Sean Blakemore, wasn't in attendance because he was on location, filming another project. Blakemore joined the ABC soap in 2011 and scored his first Emmy nomination the following year. In 2015, Blakemore made his last regularly scheduled appearance but still managed to snag another nod.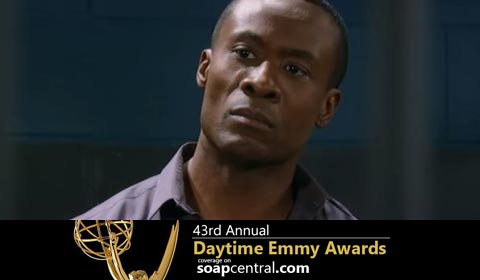 UPDATE:
The day after the Emmy ceremony, Blakemore made a surprise appearance during The Talk's fourth annual Daytime Emmys After Party. During his segment on the CBS talk show, Blakemore was given a chance to deliver his acceptance speech.
"Above all things I thank God first," Blakemore said. "I have to thank the Emmys for granting me with this gift, and I really appreciate it. I have to thank Jill (Farren) Phelps who created this role for me a little over four years ago, and above all next to God for me, my family. My mom, my brothers and sisters, and my incredibly limitless supportive wife and daughter, thank you. I love you guys. Thank you."
Since exiting GH, Blakemore has filmed appearances for the upcoming season of Lifetime's Devious Maids. He has also scored a leading role in the BET pilot The Yard.

General Hospital has been dominant in the Supporting Actor category. This was the show's eleventh win since the category debuted in 1979 (when it was also won by a GH star.) The eleven wins are six more than second placed Guiding Light.



OUTSTANDING SUPPORTING ACTRESS
Jessica Collins
(
Avery Clark
,
The Young and the Restless
)
For the third year in a row, an actress from CBS's top-rated soap, The Young and the Restless, claimed the Outstanding Supporting Actress trophy. This year, the honor went to Jessica Collins for her portrayal of Avery Bailey Clark.


This was the second nomination for Collins, who exited the show nearly a year ago in a somewhat controversial storyline.


"This is so incredible. I didn't think 2016 could get any better. I mean, I had a baby in January, and she is 13 weeks old, and I thought I'd totally used up all of my good luck, and I was totally fine with that," Collins said backstage after being named Outstanding Supporting Actress. "And now, I have this as well -- and it kind of weighs as much as her! [laughs] It's such a wonderful end to a character I loved so much playing and who is such a part of me. I am stunned. I really am."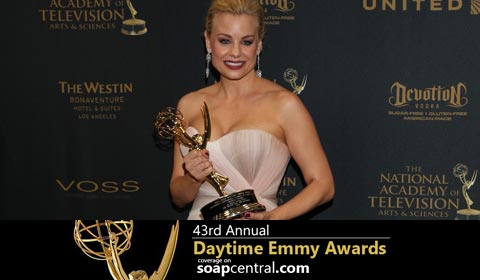 But not too stunned to have a game plan for where to show off her new Emmy hardware.


"I will put it where everyone who walks in the house will see it! I'm not going to be hiding it someplace," Collins joked. "I'll put it where everyone -- even the pizza delivery [guy] -- sees the Emmy. Everyone!"


Earlier on the Red Carpet, Collins mused that she hasn't slept since having her baby in January. So one might understand if she chose to skip the afterparties to head to one of the rooms at the Westin Bonaventure hotel for a long night of rest and relaxation. Well, except for one tiny detail.


"This is the first time that I've left the baby this long," Collins admitted. "This is only my second night out with my guy, Michael, since she was born! So I've been checking my phone, and the fact that I'm here with you and not checking my phone is really kind of crazy! But I have like ten people watching her. All her grandparents are watching her, I have a couple of friends, I have a nanny, she's got her sibling, so ten people have eyes on her. I'm sure we'll all celebrate when I get home."


When asked if there had been any names that she'd left off of her on-stage acceptance speech, Collins nodded and said the list of people she could not thank was quite extensive.


"You know, I was saying this before, winning one of these, there are so many people involved. The entire crew, the cast, and the people who work with me, my friends, my family, and it's impossible in the [time] they give you to thank everyone," Collins said, "So if I've said hello to you in my life, then I include you in this! Thank you very much."


This is the seventh time an actress from The Young and the Restless has won the Supporting Actress category. The show is now tied for second place with All My Children, and just a win away from tying first place General Hospital.


» PART THREE: YOUNGER ACTOR AND ACTRESS