OUTSTANDING YOUNGER ACTOR
Bryan Craig
(
Morgan Corinthos
,
General Hospital
)
For the first time in more than a decade, a General Hospital actor was named Outstanding Younger Actor. For the past three years Bryan Craig's name has appeared on the Younger Actor ballot -- and in each of the previous years he has been considered a front runner, but never more so than this year. Our Soap Central panelists were unanimous in saying that Craig would win -- and a plethora of other media outlets also agreed.
"It's great. I don't think it could be for a better cause. I've been nominated myself in the past couple of years, but it feels like I'm part of a group this year," Craig shared backstage after winning his Emmy. "I really do want to share this with everybody that does suffer from this illness. My mom suffers from mental illness, Maurice [Benard] does, so this is close to home and it means a lot this year."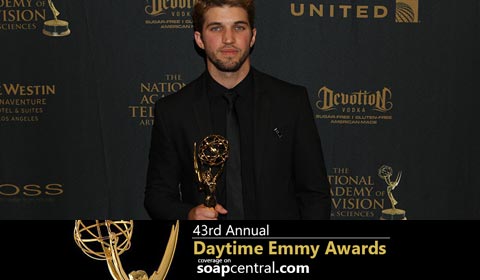 Craig went on to say that his on-screen dad, Maurice Benard, helped him understand how to approach his fictional role in an incredibly person way.
Asked if he had any lucky charms, Craig indicated that his involvement in issues of mental health are not confined to his fictional work.
"Yeah, this pin right here [on my lapel] for Mental Health America," Craig responded. "I guess that would be my lucky charm tonight. I wanted to wear something that meant something, so I reached out, and they gave me this. That was kind of cool.
The last General Hospital actor to win in the Outstanding Younger Actor category was Chad Brannon (Zander Smith) in 2004.
OUTSTANDING YOUNGER ACTRESS
True O'Brien
(
Paige Larson
,
Days of our Lives
)
In its 50-year history, Days of our Lives had never before taken home the prize in the Outstanding Younger Actress field. That changed this year when relative newcomer True O'Brien (Paige Larson) helped the long-running NBC soap break that incredible drought.
Upon hearing her name read as the winner in the category, O'Brien revealed it was something otherworldly.
"It felt like I was in a dream," she admitted. "It didn't feel real. It felt like I was hallucinating."
O'Brien attributed a lot of her on-screen growth to her on-screen mom, played by two-time Emmy nominee Kassie DePaiva (Eve Donovan).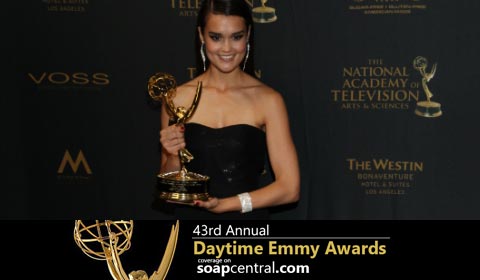 "She gave me so many tips and was so generous in her acting and [so] supportive," O'Brien praised. "If I ever had a problem, she would say, 'Come to me, and we'll talk about it.' And she would talk to me about it and we would figure it out. And she really felt like a mom figure to me."
The Younger Actor and Actress categories have a long history of seeing back-to-back winners. Unless something were to change in Salem, that won't be the case with O'Brien -- the actress' character was felled by a serial killer last year.
"I was sad! I was so sad," O'Brien confessed. "I didn't really know where they were going to go with Paige after such an awful story, such a tragic story. I honestly thought she was going to commit suicide, that that's how she'd die! So I was kind of surprised she was part of the serial murder scheme."
Since the Younger Actress category was added in 1985, eight different soaps have claimed at least one win.