OUTSTANDING WRITING TEAM
The Bold and the Beautiful
(Head Writer: Bradley P. Bell)
There was a time when The Bold and the Beautiful's Brad Bell said that he would retire if his show ever took home a Daytime Emmy for its writing. Then, in 2010, B&B earned its first win. Three years later came another win. The third win came last year. And with a fourth win in 2016, it seems unlikely that Brad Bell is going to head off into the sunset anytime soon.
B&B received critical acclaim in 2015 for a storyline that shared the journey of a transgender character. While not a first in daytime, it was still a groundbreaking story that hit television sets months before a national debate began over so-called "bathroom bills."
"I think it's really trying to bring daytime into a place where it reflects what's going on in the world today," Bell said backstage when asked what inspired him to create the story of Maya's journey. "That's what good daytime television has always done. So transgender issues, if you will, [are] very topical. There's so much to explore. It's a beautiful story about individual freedom, and it was acted incredibly well by Karla Mosley (Maya Avant). And the whole Avant family, they've just been a great addition to the show. I'm so grateful to the staff and this incredible writing team."
Whereas other soaps have told stories of transgender persons, most were one and done. The Bold and the Beautiful has kept Maya as part of its main canvas. But did Bell ever envision that would happen?
"It kept unfolding, but we've been doing this for 29 years, and it's so wonderful to celebrate diversity in every form," Bell explained. "It brings a whole new level of excitement when you're writing something fresh and new -- and hopefully changing some minds and opening some eyes, not only in the United States but around the globe."
OUTSTANDING DIRECTING TEAM
General Hospital
(Directors: Larry Carpenter, William Ludel, Scott McKinsey, Penny Pengra, Frank Valentini, and Phideaux Xavier)
The bulk of General Hospital's technical submissions this year involved the show's 52nd anniversary episode that told the backstory of Luke Spencer, played by multi-Emmy winner Anthony Geary.
The episode featured a mixture of story told from the present day interspersed with newly created flashbacks filmed in black and white.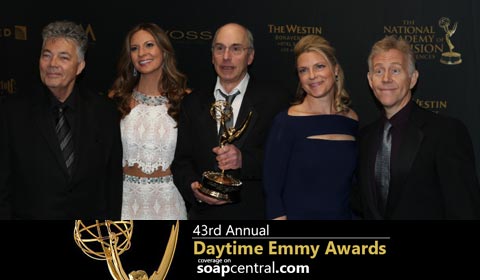 When asked what it was about that episode that made it so special, William Ludel stated that it was due to myriad factors.
"It brought the history to life," Ludel explained. "We got to work with Tony, we got to [work with] Laura [Wright], it was the actors, and it was a great script to work with."
While the script may have been good, it also presented some interesting challenges for the directing team to tackle. But have there ever been shows that have made the directors ask, "How are we going to make this work?"
"All the time! This show that we won for was exactly like that," Ludell admitted. "We had never done anything like it before; it was very different. And there are big shows, but we've all done those. When a different script comes in, it's exciting and scary."
This was General Hospital's ninth win in the directing category.