OUTSTANDING LEAD ACTOR
Tyler Christopher
(
Nikolas Cassadine
,
General Hospital
Tyler Christopher's longevity in daytime is marked by nominations in the Younger, Supporting, and Lead Actor categories. His first nomination -- for Younger Actor -- came in 1998. Now, nearly 20 years later, Christopher has his first Emmy trophy.
On the Red Carpet, Christopher praised his on-screen son Nicolas Bechtel, who himself was nominated this year in the Younger Actor category. The relationship Christopher and Bechtel shared both on-screen and off-screen factored greatly into Christopher's now Emmy-Winning reel.
"The scenes I submitted for the Emmy reel were those where Spencer [Nicolas Bechtel] had been burnt in a fire and was fighting for his life, so you can imagine a father's plight, waiting to see if his ten-year-old son is going to die or not," Christopher explained. "I didn't really have a plan in place, and I really don't approach it like that. I just kind of read the material and then I trust it, and whatever creeps in is what creeps in. And on that particular day, I just could not hold it together. And I guess that's what helped put me here. But again, like I said, on stage, you're only as good as your other half, and I had Nancy Grahn (Alexis Davis) and Nicolas Bechtel (Spencer Cassadine), and Becky Herbst (Elizabeth Webber) backing me up, and without them, I'm not here."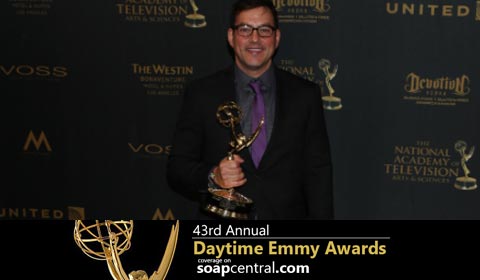 The win also made Christopher reflect on his journey in daytime.
"It's incredible. Like I said on stage, it's about the journey and not where I'm at right now," Christopher said. "I've been playing this character for 20 years, and to be able to stand up on that stage and look my peers in the eye, that I have worked with and that have tutored me over the years, and thank them, I mean, come on, who gets to do that? You know what I'm saying? And for me, that was the honor."
On stage, Christopher had held up a book. Backstage, Christopher explained the significance of the book -- and how it, too, factored into his journey.
"Many, many years ago, Stephen Nichols, when I first came on the show, that's how I was introduced. He was already an icon at the time, he was Patch [on Days of our Lives], and he was now Stefan on General Hospital, playing my uncle," Christopher said. "He had a lot of power in saying who gets the job and who doesn't. I did the test with some other actors, and at the end, he said, 'That's the guy.' Maybe I still would have gotten it if he said I'm not the guy, but he was like, 'That's my son.' So I'm standing up here today, and it has a lot to do with because he said that on that day. So he gave me that book, To the Actor by Chekov, which is an acting book. He gave that to me 17 years ago, and it has an inscription on the front, and I kept it. It's special to me, he's important to me, and I wanted to make sure that I singled him out tonight."
OUTSTANDING LEAD ACTRESS
Mary Beth Evans
(
Kayla Brady
,
Days of our Lives
)
Winning an Emmy can be the crowning achievement in an actor's career. Winning two Emmys in three days? That's the stuff of legends. And for legendary Days of our Lives star Mary Beth Evans, that's just what happened.
At this year's Daytime Emmys Creative Arts ceremony, Evans was awarded an Emmy as Outstanding Actress in a Digital Series for her work on the Emmy-winning series The Bay. Then, at the main Emmy ceremony, Evans was honored for her work on Days of our Lives.
What makes this even more unbelievable is that prior to this year, the actress has never before even been nominated for an Emmy.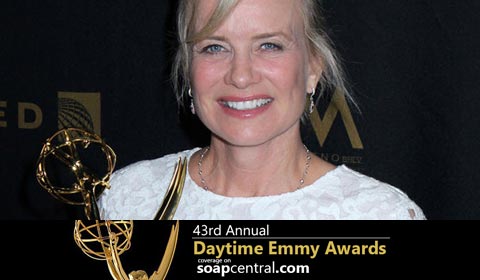 "I'm so shocked and overwhelmed, I don't even know what to do," Evans said in disbelief backstage. "I'm really just beyond [words]. It's amazing. And there are such incredible women in this category... I'm just surprised and blown away. My husband and I were both just like, 'What?! This is crazy!'"


When asked what the difference was between her 30 previous years of material and the material that she submitted this year, Evans chalked it up to experience.


"I think it was a lot of things. One, just being my age and having the life experience that I've had now. I think that has helped," Evans stated. "And bringing Stephen [Nichols, Patch] back, because he and I have an incredible connection. And bringing Peter [Reckell, Bo] back. I love him to death, and I love him as a person and as a character, my younger brother. And my husband is a doctor, and I know that it's hard sometimes when you have a family member that is sick and you have to juggle all those roles. And I just tried to bring that. So I don't know why this year, but I'm thankful. And you know, Josh [Griffith] and Dena [Higley], they wrote great stuff for us, so it's all those things. And I'm really, really appreciative."


Evans' reel even included something not often rewarded by Emmy voters: comedy.
"In my actual reel, there was drama, too. But I just felt like I'd rather be known for funny than crying," Evans explained. "So when they said, 'What do you want to send for this thing?' I thought laughing would be better. So that's why I sent that."
Evans is the third DAYS actress to win in the Lead Actress category. Two years ago, Eileen Davidson won, ending a 39-year winless streak.