The Supporting Actress category is one of the few that features nominees from all four soaps. Of the five nominees, just one is a previous winner. Two are first-time nominees. Two are previous nominees for their work on another soap -- with one of those having been nominated for playing the same role on that other soap. While your brain tries to figure out that math, here is how this year's Outstanding Supporting Actress nominees reacted to their nods on social media.
To learn more about this year's nominees, be sure to check out Soap Central's 2022 Daytime Emmy coverage here.
Kimberlin Brown (Sheila Carter, The Bold and the Beautiful)
What a difference a few hours can make. Earlier in the day on Nominations Thursday, Kimberlin Brown was out picking avocados. Fast-forward a bunch of hours and the Emmy-nominated actress was celebrating her nomination (and Cinco de Mayo) with her mom and dad.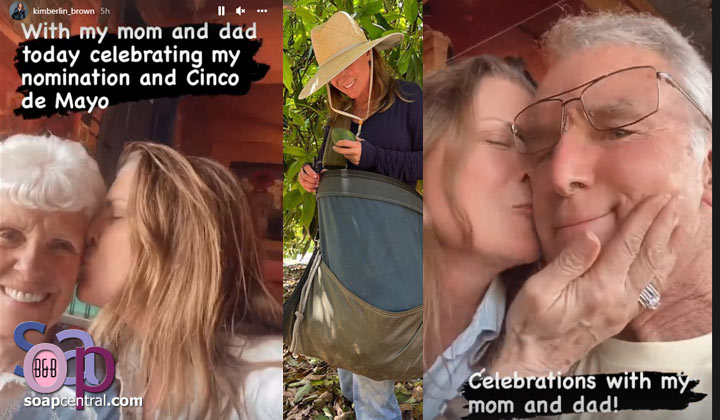 In between farming and dining, Kimberlin Brown took some time out to chat with Soap Central about her nomination. You can read that interview here.
This year's nomination is a first for Brown, sort of. She received a nomination in 1993 for playing the dastardly Sheila Carter -- but it was for her work on The Young and the Restless. This year's nod is the first Brown has received for her work on B&B.
Nancy Lee Grahn (Alexis Davis, General Hospital)
Nancy Lee Grahn is the only actress in the Supporting Actress field this year to have a previous Daytime Emmy win. Actually, she has two previous wins. In 1989, Grahn scored an Emmy for her work on Santa Barbara -- and tied with Debbi Morgan (Angie Hubbard) of All My Children. She picked up a trophy for her role on General Hospital in 2012 and did not have to share that one with anyone else. Ironically, Grahn chose not to attend the ceremony that year.
Still, Grahn remains grateful for the praise, writing on Twitter that it was "Lovely to get another pat on the back for doing what I still love doing after 36 yrs. Thinking about other women with tenure, who are still producing capably and hope that their value is still seen as well."
Grahn also shared her excitement on Instagram and, in her trademark style, took the chance to also make a personal statement.
Stacy Haiduk (Kristen DiMera, Days of our Lives)
Haiduk, who had been vacationing in Santorini, according to Instagram posts, took time to repost an enthusiastic fan's Instagram post -- and it just happened to be one that included Soap Central's Emmy nominations images. "OMG Eric [Martsolf] and Stacy!!!" the caption on the image read.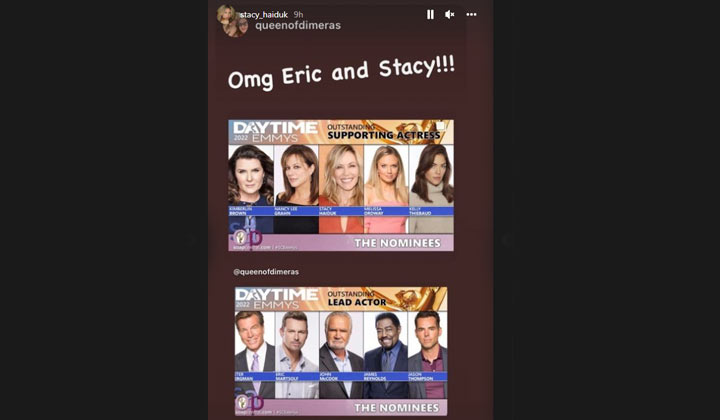 While this is Haiduk's first nomination for her work on Days of our Lives, it is not her first Daytime Emmy nod. In 2018, she received a Supporting Actress nomination for her work as Patty Williams on The Young and the Restless.
Melissa Ordway (Abby Newman, The Young and the Restless)
Melissa Ordway told fans she was "shocked" by the news that she had gotten her first Daytime Emmy nomination. In an Instagram story, she added, "I can't believe it! Thank you so much! I'm honored and humbled to be nominated. Congratulations to all the very talented nominees!"
In an Instagram post, Ordway wrote, "I am ecstatic, honored and humbled to be nominated for a @daytimeemmys award for Best Supporting Actress. I was lucky enough to be with @mishaelmorgan today when we got the news! Congratulations on your Lead Actress Nomination!!!"
Kelly Thiebaud (Dr. Britt Westbourne, General Hospital)
Despite playing a role that fans either love or love to hate, this marked Kelly Thiebaud's first Daytime Emmy nomination. The actress wasted no time sharing her reaction to the big news. "I am beyond excited and overwhelmed with gratitude," Thiebaud wrote on Twitter along with an "I'm so freakin excited" GIF.
The actress wasn't any less excited on Instagram, posting, "What the…!!!!! Omg!!!! Im so excited! Wowowowow."
To learn more about this year's nominees, be sure to check out Soap Central's 2022 Daytime Emmy coverage here.
What do you think of the reactions by the Supporting Actress nominees? We want to hear from you -- and there are many ways you can share your thoughts.