The National Academy of Television Arts & Sciences (NATAS) has announced that this year's Daytime Emmys ceremony has been postponed due to the Writers Guild of America strike.
"The 50th Annual Daytime Emmy Awards planned for Friday, June 16 on CBS is postponed due to the WGA strike. In addition, the Creative Arts & Lifestyle ceremony, planned for Saturday, June 17, has been postponed pending a strike resolution," Adam Sharp, president and CEO of the National Academy of Television Arts & Sciences, said in a statement. "We look forward to our community gathering together as one to celebrate the Golden Anniversary and all of the talented nominees and honorees at a later date."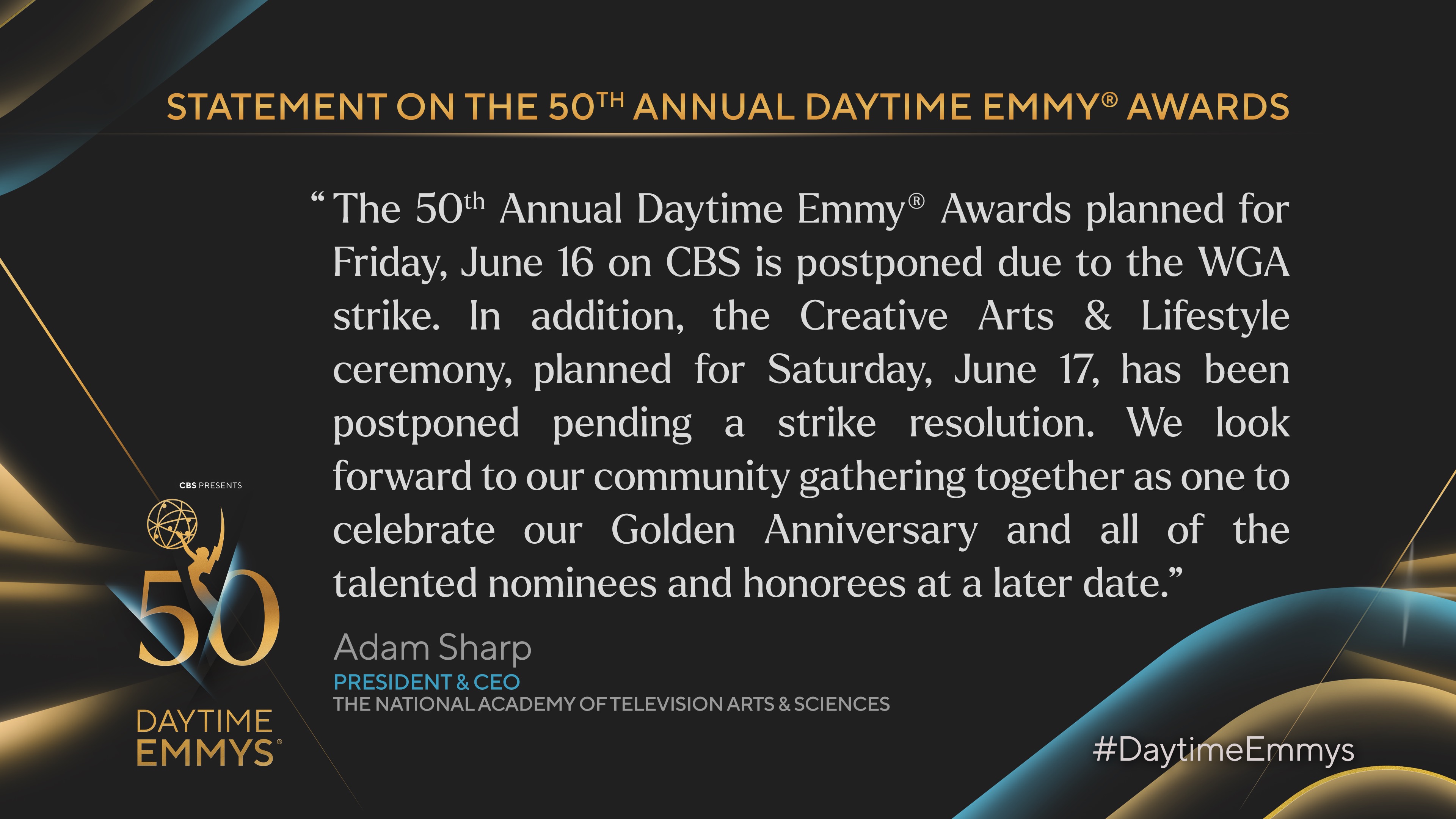 Members of the WGA went on strike after six weeks of negotiations with the Alliance of Motion Picture and Television Producers, a body that represents major Hollywood studios and production companies like Discovery-Warner, NBC Universal, Paramount, Sony, Netflix, Amazon, Apple, and Disney, failed.
One of the strike's key demands is higher compensation. According to a recent WGA report, median weekly writer-producer pay has declined 23 percent over the last decade when adjusting for inflation.
Another demand involves creating guidelines for the usage of artificial intelligence in writing content for broadcast.
This year's ceremony is slated to be the 17th time that CBS broadcasts the Daytime Emmy Awards, more than any other network. The ceremony was set to take place at the Westin Bonaventure Los Angeles. There is no word yet on if the postponement will result in a venue change.
For a listing of all the soap-related nominations this year, continue reading here.
What are your thoughts on the postponement of this year's Daytime Emmys? We want to hear from you -- and there are many ways you can share your thoughts.