That is the question on everyone's mind on Friday, as Luke and Laura are reunited with their son Lucky after a year apart. The search for Lucky culminates at a place from the Spencer's past -- The Triple L Diner (once owned by Luke and Laura).
According to GH Head Writer, Bob Guza, "The emotional reunion will take a shocking turn. Remember, Helena has let Lucky go; he doesn't escape from her. So the implication is that she is ready for Lucky to be unleashed on the world. And just what that entails is the most interesting thing."
As the moment they've been waiting for finally arrives, Luke and Laura are unprepared for what follows when they see Lucky. "The kid doesn't at all react the way we expected. This time he's been away he's obviously changed a great deal, into a different person emotionally. His whole relationship to his parents is confusing. It's a different Lucky, in many ways," Guza said.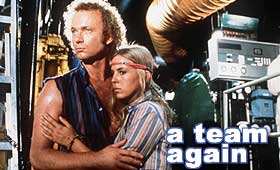 There are other stories playing out during the search for Lucky. The possibility of a reunion between Luke and Laura is tempting as the search for Lucky has reminded them of their past adventures and true love. As they remember their past (with fondness) and begin to reconnect, Felicia appears to help with the search. The tension between Laura and Felicia is mounting while Luke is caught in the middle.
"What we see is Laura reaching out, and he's drawing a boundary saying we can't go beyond this," Anthony Geary (Luke) says. "But I think since she's the love of his life, if he had another shot at her, he'd take it. What's stopping that is Felicia, and the fact that every time we get to a place of just about to go through a new doorway or onto a new plateau of reconciliation, Felicia's there. If it were me, I'd say, 'Felicia, go home. This is my one chance to get back with my wife.' And Felicia's not really been that much help."
Of course this reunion hardly brings an end to the story. There is potential fallout from several angles and more to come as Lucky reunites with his friends, family and true love Elizabeth. Felicia and Mac's relationship is again on the line since Felicia abandoned her family (again) to be with Luke. Stefan will be a force to reckon with, as he has become the spurned lover in all of this. Helena's plan for Lucky and the Spencers will also unfold.