While Carly fans are breathing easy these days since the news that her portrayer Sarah Brown re-signed with General Hospital at the eleventh hour; it is not certain how long Brown will stick around (a year, maybe). The decision-makers at GH were willing to bend over backward to keep her (and her hot new romance with Sonny) alive in Port Charles. Within hours of the deadline, an offer was made which allowed Brown to pursue outside projects, and pair her up with long-time dream co-star Maurice Benard (Sonny).
There has been some speculation of a brief return for Vanessa Marcil (Brenda Barrett), which Brown invites with enthusiasm. The chemistry between Sonny and Carly is undeniable, with the return of Brenda, that chemistry could be explosive. "God I would love to have the gloves off, and Vanessa and I would really be able to go at it over Maurice," Brown told ABC Soaps in Depth.
In other contract news, Ingo Rademacher (Jax Jacks) has decided not to renew his contract when it expires this summer. While there has been little speculation how Jax will leave the Port Charles canvas, Rademacher has no firm plans for his post-GH future. "I haven't really built up my resumé. I think [daytime] was a good move. And especially being on General Hospital, the best daytime show, I think. But there are other things I'd like to do."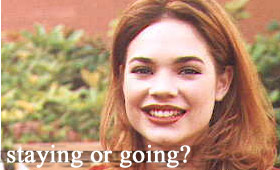 Taggert fans can rest easy since Real Andrews re-signed and is looking for a possible romance with Hannah. His re-signing happened to coincide with accusations of racial bias (and the lack of African-American characters on the show), as did the change in contract status for Vanita Harbour (Dara) who is now recurring. There have, however, been reports that Andrews is being wooed by CBS's The Young and the Restless.
Rebecca Herbst (Elizabeth) hasn't decided if she'll ink a new deal when her contract expires this summer. The actress has said that she'd like to spread her wings and try some non-daytime gigs. Previously, Soap Opera Central reported that Herbst had contemplated leaving the show at about the same time as Jonathan Jackson (ex-Lucky Spencer) departed. She's hinted that it might have been to make cameos from time to time.
Maurice Benard (Sonny Corinthos) told fans at a recent event that when his contract expires (in seven or eight months) he plans to re-sign if nothing else major happens elsewhere. He also said when he does, he'll stick around for a long while.
Billy Warlock (AJ Quartermaine) re-signed his contract despite his admission (at the same fan event a few weeks prior to re-signing) that the previous three years at GH were unhappy ones for him. He added that had he been aware of how loathed this character was and felt as though he would never accepted the recast role. He went on to say that AJ never has sex because of head writer Robert Guza Jr.'s restraining touch.
Speaking of Guza, his contract is up later this year. When asked if he planned to re-sign, his response was short, "I don't know."