Ingo Rademacher (Jasper "Jax" Jacks) will join the ever-growing cast of Titans, a new primetime soap slated to debut on NBC this fall.
Titans, the latest project by television guru Aaron Spelling, is looking more and more like a soap opera family reunion. Of the six main characters cast so far, all have experience in soap operas of some form.
Rademacher announced earlier this year that he was ready to call it quits as GH's Jax, a role he created back in 1996. It's not that Rademacher doesn't enjoy his work on the top rated ABC soap, it's just that he's ready to spread his wings and try some other projects. The Australian hunk never expected to stay so long in Port Charles.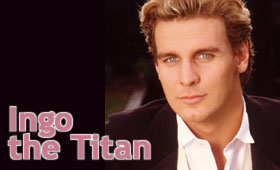 "I looked at [my role on General Hospital] as more of a two-year thing," says Rademacher. "Then I looked at it as a three-year thing. And then I was like, 'All right, I'll do one more year.' Then, 'I'll stay on for a little bit longer.' But that's it. That'll be almost four and a half years."
On Titans, Rademacher will play "the devilishly handsome manager of the night club owned by Titans matriarch Gwen Williams (Victoria Principal)," according to the show's rep. Principal, of course, appeared in the long-running primetime soap, Dallas.
Also signing up for the soap are Yasmine Bleeth (ex-Lee Ann, One Life to Live) Josie Davis (ex-Grace, The Young and the Restless), Casper Van Dien (ex-Ty, OLTL), Jason Winston George (ex-Michael, Sunset Beach), and Perry King (ex-Hayley, Melrose Place).