Forget everything you've read in the tabloids. Patricia Healy (ex-Tammy Hansen) was "not suicidal" after being dismissed from General Hospital in July.
The actress sat down for a very candid interview with Soap Opera Digest (September 12, 2000) to discuss the facts and rumors surrounding her departure. In the interview, the actress stated that her decision to come forward was prompted by her loyal fan following.
"[The fans] have a fight to know what happened," the actress explained.
According to Healy, she began taking the prescription drug Prozac in April of this year. The medication was prescribed after the actress went through a messy relationship breakup and the passing of a close friend. Healy stated that she was being treated for depression and a sudden onset of panic attacks. The doctors, said Healy, prescribed a second medication, Xanax, to combat her anxiety. Healy said that she would not take the new medication on her work days because "it was mind-altering."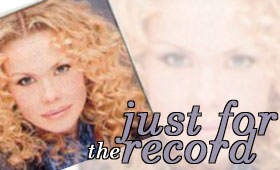 In late June, Healy's doctor upped her dosage of Prozac. At the time, the physician was unaware that Healy was not eating.
"When I go through emotional states, I don't eat," the actress explained.
Apparently, the lack of food in Healy's system coupled with the increased dosage caused Healy some unforeseen side effects. Patients taking Prozac are warned not to take MAOI Inhibitors (used to treat depression) while on Prozac and are urged to stop taking those medications for five weeks before starting Prozac. Xanax, the other medication Healy was taking, is not an MAOI inhibitor so there should not have been any adverse drug interaction. According to reports done by Eli Lilly, the maker of Prozac, 12 to 16% of patients taking Prozac experience "anxiety, nervousness, or insomnia."
During the July 6 taping of her scenes, Healy says that she "went into a tailspin."
"My tongue felt weird [and] I went into a full-blown panic attack," recounted Healy.
According to Healy, taping abruptly stopped and she was pulled into a meeting with the show's producers. Show execs had concerns that Healy was intoxicated, however Healy assured them otherwise. Taping did resume, but the following day, Healy learned that she'd been let go. Less than one month later, on August 1, Tamara Clatterbuck (ex-Alice, The Young and the Restless) was put in place as the new Tammy.
Healy was hospitalized for five days following the incident, fueling tabloid reports that she was suicidal as a result of her firing. Healy vehemently denies that she was suicidal and insists that she is not angry at GH brass for letting her go. She does, however, feel that the show "mishandled" what happened.
There are no immediate plans for Healy to return to daytime television. The actress expressed a desire to take some time off.