With Ingo Rademacher already gone, many General Hospital fans are abuzz that the show may be losing more of its hunk factor.
Soap Opera Digest started the hubbub earlier this month when they reported that Maurice Benard (Sonny Corinthos) may be exiting General Hospital when his contract expires early next year. The actor, however, has assured fans that his contract renewal has not even crossed his mind yet.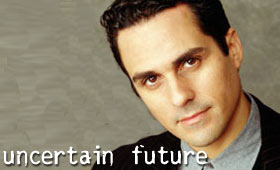 Reports that Benard, whose contract is up for renewal in January, is mulling a leave seem to have been fueled by the announcement that Robert Guza Jr., General Hospital's head writer, is leaving the show later this fall. Benard is an outspoken supporter of Guza's work and many have questioned whether or not he'd stick around with someone else writing storylines for his character.
Benard rejoined General Hospital in December 1998 after a year-long hiatus. The actor debuted on the show in 1993. In 1996, Benard earned an Emmy nomination for Outstanding Lead Actor and followed that honor up with a nomination for Outstanding Supporting Actor the following year. Soap fans may also remember that Benard appeared as Nico Kelly on All My Children from 1987 to 1989.