Michele Val Jean has been elevated to the position of head writer of General Hospital. She replaces Robert Guza, Jr. and Meg Bennett, who tendered their resignations this past summer and left their positions as co-head writers recently.

Van Jean is not a stranger to the General Hospital scene. In fact, she has been aboard since 1993 in various capacities. Val Jean was a scriptwriter in 1993. Since that, she penned the 1998 re-visitation of Luke's rape of Laura. For her efforts, she and the rest of the GH writing staff were given a Daytime Emmy. Previously, Val Jean earned an Emmy in 1994-1995.
With Val Jean's promotion, a bit of daytime television history has been made. Val Jean becomes the first African-American head writer for a daytime soap.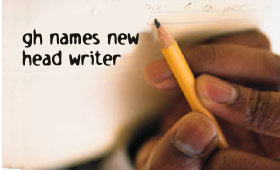 Val Jean, however, is not the only GH writer receiving a promotion. Elizabeth Korte has also been bumped to the show's head writing team.
The promotions, according to GH executive producer Wendy Riche, is "significant." Both, Riche states, have a long history with the show, so they have an "innate understanding of the characters."
Val Jean and the new writing team will have several weeks to get themselves settled into their new roles. After that acclimation period, they'll begin developing new storylines, which should begin airing just in time for the February Sweeps period in 2001.