Amber Tamblyn (Emily Quartermaine) has confirmed that she will, in fact, be leaving General Hospital, when her contract expires later this year.
The rumors that the actress was planning to leave General Hospital first cropped up in March, when it was reported that Tamblyn and new executive producer Jill Farren Phelps had gotten into numerous behind-the-scenes arguments. A similar rumor was blamed for Sarah Brown's (ex-Carly) decision to leave the show. The rumors were quickly denied by Phelps and by the two actresses.
Another reason linked to Tamblyn's departure is her interest in pursing film work. According to chatter, Tamblyn had landed a part in a feature film and needed some time off of GH to film her part in the movie. The gossip goes on to say that Phelps refused to allow Tamblyn to take the break she needed.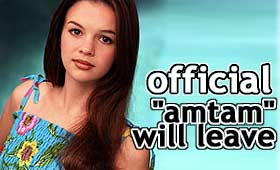 The film part rumored for Tamblyn appears to have passed her by. The actress, however, states that she has secured a part in a pilot for a WB series called No Ordinary Girl. Tamblyn will play Paige, and the show will revolve around life as Paige see its through her own eyes. The pilot, however, was not picked up for the fall season.
On her official web site, Tamblyn revealed that while she will leave the show when her contract is up, she will be extending her stay by at least a few weeks.
"There is way too much juicy stuff left for storyline!" Tamblyn states.
It has yet to be decided if the role will be recast, however, Tamblyn's mother hopes that the character exits when her daughter does.
"We truly hope that they will not recast the role that Amber created in Emily, so that Amber might comeback to visit," says Tamblyn's mother.
Also left uncertain is the fate of Tamblyn's co-star Chad Brannon, who plays Zander. According to insider accounts, Brannon had been forced to remain on a recurring status with the show because of Tamblyn's possible -- and now confirmed -- departure.
According to Tamblyn her exit will be "around July."