ABC has now confirmed that Genie Francis (Laura Spencer) is leaving the show. The confirmation comes two weeks after Soap Central first reported that the actress would be exiting the show - but some three months after rumblings first appeared on the Internet.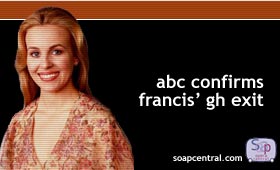 "We are saddened by Genie's decision to leave General Hospital," said former ABC Daytime President Angela Shapiro in a statement. "Her portrayal of Laura Spencer over the last 25 years is a testament to her incredible talent and passion for her craft."
This is not the first time that Francis will be departing Port Charles. The Daytime Emmy-nominated actress joined General Hospital in 1976 and stayed through 1981. The actress returned in 1983 before leaving the following year. Francis then remained away from General Hospital for nearly a decade, returning in October 1993 and remaining with the show through the present.
Genie Francis taped her final General Hospital scenes on August 13. She last air on-screen on September 6.