Ending the "is she coming back?" speculation, General Hospital co-head writer Robert Guza, Jr. had announced that the show does plan to bring Emily Quartermaine back to the canvas. And yes, the role will be recast.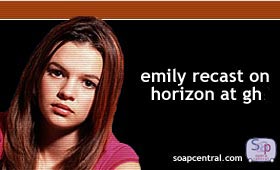 In August, Amber Tamblyn (ex-Emily Quartermaine) revealed that she had learned that show executives were planning to bring Emily back. Tamblyn had left the show in July 2001. At that time, Tamblyn had not been approached by the show to reprise the role. Since then, however, show execs have talked to Tamblyn, but both sides concluded that Tamblyn's outside work schedule would prevent her from being able to devote time to GH.
If and when Emily does return, which Guza hints will be before the spring, the return will have to be crafted very carefully. Guza says that he is aware that Tamblyn made the role of Emily her own and that any recast would have big shoes to fill. "Amber was something special," said Guza in a published interview.