Vanessa Marcil (Brenda Barrett) will once again be leaving General Hospital. According to published reports, Marcil and executives at ABC were unable to come to terms on a new contract. Marcil returned to the fictional town of Port Charles last year after a four-year absence.
Marcil's return to General Hospital on September 4, 2002 was originally scheduled to be a short-term summer run. According to Marcil, she didn't want to return to soaps full-time because she wanted to spend time with her 10-month-old son, Kassius.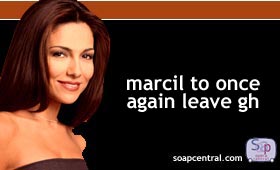 "When I signed a short-term deal last summer, I made it clear I'd have to see how my son responded to my going back to work," Marcil says in an interview with TVGuide. "And he hasn't responded well."
With Marcil's stay lasting longer than originally anticipated, ABC executives pushed hard for the actress to sign a long-term commitment with the show. Marcil reportedly wanted significantly more money - even more than the show's top-earner Anthony Geary (Luke Spencer) - and a reduced work schedule.
"I'm really disappointed to be leaving, but I guess ABC's not willing to compromise on the things I need," Marcil says. "I have a lot more needs now that I have a child, and they need what they need to run a show smoothly."
General Hospital executive producer Jill Farren Phelps said in a statement, "We are disappointed by Vanessa's decision to leave but understand her desire to try new things. Vanessa will always be a very important part of the GH family and we wish her success in her future endeavors."
Marcil's final airdate will be February 19th.