After six years with General Hospital, Réal Andrews (Marcus Taggert) has opted not to renew his contract with the show.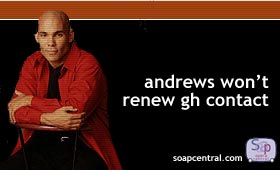 Andrews and ABC have been on contract talks for the past several weeks and there had been indications that Andrews would not want to renew his deal with the show.
"Although I have agreed to work off contract through March," said Andrews, "I feel it is time for me to move on. These past several years have been an incredible blessing . I have had the opportunity to work with some of the most talented actors I know."
Andrews joined General Hospital in November 1996, but left the show in 1997. He was temporarily replaced by actor Mathew St. Patrick before returning to the show the following year.
Andrews makes his final appearance on May 8th. A setside source states that it is unlikely that the role of Taggert will be recast.