ABC has now confirmed that Kelly Monaco (Livvie Locke, Port Charles) will be joining the cast of General Hospital. The actress will make her first appearance this fall.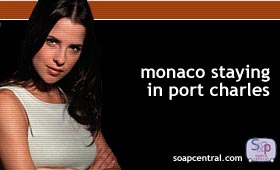 Monaco becomes the third performer from Port Charles to have a post-PC gig lined up. Port Charles airs its last episode on October 3rd. Monaco also has the distinction of being the first female performer from the show to find another job in daytime. Earlier this summer, Michael Easton (Caleb Morley, PC) was signed to appear as John McBain on ABC's One Life to Live and earlier this month Brian Gaskill (Rafe Kovich, PC) confirmed that he'd be jumping networks and taking on a role at CBS's The Bold and the Beautiful.
Even though Monaco will be remaining in the fictional town of Port Charles, she will portray a newly created character by the name of Samantha. According to network insiders, the writers at General Hospital felt it would be too difficult to address the supernatural aspects of Monaco's Port Charles character on General Hospital.
Monaco reportedly auditioned for at least two other soaps -- ABC's All My Children and CBS's As The World Turns -- where she reportedly would have played the role of Nikki Munson. Both of those soaps, however, are filmed in New York City and it was implied that Monaco wanted to remain based on the West Coast, where both Port Charles and General Hospital are filmed. The General Hospital studio is located one building away from where Port Charles had been filmed.
A first airdate for Monaco has not yet been announced.
RELATED STORY: MICHAEL EASTON TO JOIN CAST OF OLTL

RELATED STORY: BRIAN GASKILL SKIPS AMC, HEADS TO B&B

Photo Credit: Dan J Kroll/Soap Central
---
---