Fans of General Hospital are about to see massive on-screen changes at the show. Just a few weeks after the dismissal of beloved veteran Anna Lee's (Lila Quartermaine) firing comes word that more firings are on the way.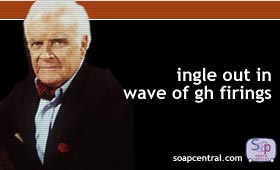 Though a network spokesperson has declined to comment, Soap Central has confirmed that John Ingle (Edward Quartermaine) has been fired. Unlike Ingle's on-screen wife, Lee, who was given the optimistic promise that she might be asked to return on a recurring basis as her character is needed, Ingle has not been given any indication that he will ever return to the show in the future. Instead, there are setside rumblings that the character might be killed off.
Ingle, the third actor to portray Edward, joined the cast of General Hospital in 1993.
A final airdate for Ingle has not yet been announced, as ABC has not yet issued an official statement regarding the actor's impending departure.
---

RELATED STORY
Fan favorite Chad Brannon to exit GH over contract flap.

RELATED STORY
Lane Davies to exit in early 2004.

RELATED STORY
Long-time vet Kin Shriner released from GH.