When General Hospital co-head writer Charles Pratt, Jr. revealed last month that the character of Lois Cerullo would soon be returning to Port Charles, many GH viewers had high hopes that Rena Sofer would return to reprise her Emmy-winning role.
Indeed, in interviews Pratt hinted that it was his hope that Sofer would return to reprise the role.
Now, however, comes word that Sofer will not be returning to General Hospital and a search is on to find a new actress to play Lois. According to Sofer, network execs did not even approach her about reprising the role.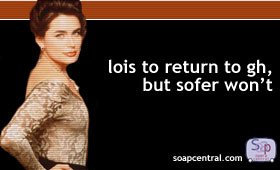 "It would have been respectful if General Hospital had had the courtesy to come to me about the role of Lois," Sofer stated. Sofer says that she is not only hurt for herself, but also for fans who have been clamoring for her return to the show eight years after she left.
"There was no expectation that Rena would be available," a spokesperson for ABC says. "We're currently casting the role of Lois and hope to have an exciting announcement soon."
Sofer made her General Hospital debut in 1994 and remained with the show through 1997. In 1995, the actress won an Outstanding Supporting Actress Emmy.
According to insiders, several former soap stars have tested for the role, including Lisa LoCicero (ex-Jocelyn, The City/Loving) and Alicia Coppola (ex-Lorna, Another World).
In an interesting twist, the actresses who have been reading for the part of Lois, the former wife of Ned Ashton, have been testing opposite of Ingo Rademacher (Jasper "Jax" Jacks) and not Wally Kurth (Ned Ashton). Typically screen tests are done between performers who will ultimately be pared together on-screen.