Anna Lee (Lila Quartermaine), an actress whose acting career spanned 70 years, died Friday, May 14th. Lee had been ailing for the past several months and died at her home near Beverly Hills with son Jeffrey Byron, 48, by her side. She was 91.
Paralyzed from the waist down in a car accident just a year after she began playing Lila Quartermaine on General Hospital, Lee acted in a wheelchair for more than two decades until she left the soap last year, Byron said. Lee's stint on GH rejuvenated her, Byron added. "That was really a great elixir for her. Without a doubt it gave her much more longevity later in life," he said.
Late last year, General Hospital took Lee, a 25-year veteran of the show, off contract. The move outraged fans and Lee's son.
"I can tell you that this will kill her, emotionally and spiritually," Byron said at the time. "Mom took it very hard. It had a devastating impact on her."
Anna Lee was born Joan Boniface Winnifrith on January 2, 1913, in the village of Ightham, Kent, England, where her father was Rector of St. Peter's Church. At the age of 17, Miss Lee began to study with Elsie Fogarty at the famed Central School of Speech Training and Dramatic Art at the Royal Albert Hall in London.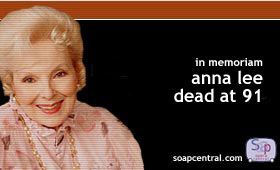 In 1935, Miss Lee was signed by Gaumont British and appeared in over a dozen films during the next four years, including King Solomon's Mines (with Paul Robeson), The Camels Are Coming, Passing of the Third Floor Back, Young Man's Fancy, Return to Yesterday and Non-Stop New York.
In 1939, she came to the United States to star opposite Ronald Colman in My Life With Caroline. The following year she appeared as Bronwen in the Academy Award-winning How Green Was My Valley, thus beginning an association with the great director John Ford, which would span 25 years and eight pictures.
During World War II, besides starring in Seven Sinners and Flying Tigers (both with John Wayne), Commandos Strike at Dawn (with Paul Muni), Flesh and Fantasy (with Edward G. Robinson and Charles Boyer) and Hangmen Also Die (directed by Fritz Lang); she volunteered for overseas duty with the U.S.O. and entertained Allied troops in North, Central and East Africa, Iran and Sicily, first with Jack Benny and then with Adolphe Menjou. Then, under special orders from General George Patton (who made her an honorary private in the Sixth Army), she spent several months visiting field hospitals throughout the Mediterranean area.
During the years following the war, she made Bedlam, The Ghost and Mrs. Muir, G.I. War Brides, High Conquest and Fort Apache. In 1950, she moved to New York to appear in the new medium of television. For four years, she played in the ABC live weekly series, A Date With Judy; while also appearing every Thursday evening as "anchorman" in a panel show for CBS called It's News to Me, with John Daly, and during the fifth year, with Walter Cronkite. During the early fifties in New York, she also appeared in numerous live shows such as Pulitzer Prize Playhouse, Kraft Theatre, Studio One, Robert Montgomery Presents and Ford Theatre.
In 1957, Miss Lee returned to films, appearing opposite Jack Hawkins in John Ford's Gideon of Scotland Yard, which was followed by The Last Hurrah, Horse Soldiers, This Earth is Mine, The Prize, The Crimson Kimono, Whatever Happened to Baby Jane, In Like Flint, The Sound of Music and Seven Women. She has appeared in the television shows, Eleanor and Franklin, Scruples and The Night Rider, and guest-starred in such series as Maverick, Dr. Kildare, The F.B.I., Mr. Novak, Mission: Impossible, Perry Mason, Mannix, Family Affair and Glitter.
From 1978 through 2003, Miss Lee appeared as Lila Quartermaine in General Hospital. She was said to enjoysthe role greatly, both for the diversity of the character of Lila, a challenge to her comedic skills, and because she felt so close to her television "family."
In real life, Miss Lee was happily married to Robert Nathan, the well-known novelist and poet, author of over 40 novels, including Portrait of Jennie, The Bishop's Wife, and One More Spring. She suffered the loss of her husband in 1985, followed by the death of her eldest son the following year.
In 1982, Anna Lee was awarded the M.B.E. (Member of the Most Excellent Order of the British Empire). She went to England to receive the award from Her Majesty Queen Elizabeth at Buckingham Palace. She won three Soap Opera Awards for Outstanding Supporting Actress -- the first in 1982, followed by one in 1983 and a third in 1988.
In addition to son, Jeffrey Byron, Lee is survived by another son, Stephen; two daughters, Caroline and Venetia; seven grandchildren and two great-grandchildren.
Miss Lee will receive a Lifetime Achievement Award at this year's Daytime Emmys, to be held Friday, May 21st.
A General Hospital spokesperson said that a decision will be made within the next two months on how to address Lee's death on-air. An inside source tells Soap Opera Central that the show is trying to lure back prominent stars from the show's past for a memorial service.
Donations can be made in Anna Lee's name to The Disabled Veterans of America or The Royal Oak Foundation.