Kimberly McCullough (Robin Scorpio) will reprise her Emmy-winning role of ABC's General Hospital later this year. Though rumors of the actress' return have made the rounds on the Internet in recent years, this time it's the real deal. ABC Daytime President Brian Frons confirmed the actress' return in a press release.

"Robin Scorpio is a character that the fans have never forgotten and has ties to so many of the current stories that are playing. I am delighted that Kimberly will be reprising this role, and we can all look forward to an emotionally compelling story that will draw Robin back into the fold," Frons said in the announcement.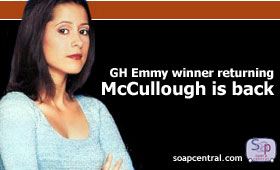 McCullough originated the role of Robin Scorpio in 1985 when she was just seven years of age. Remarkably, this was not the young star's first foray into professional acting. At the age of seven months, McCullough appeared opposite Juliet Mills (Tabitha Lenox, Passions) in a diaper commercial. From there, McCullough appeared on television programs such as Fame and Solid Gold. In feature films, McCullough has been seen opposite Warren Beatty in Bugsy and as Kevin Kline's daughter in Consenting Adults.

"I am filled with eager anticipation to return to the role of Robin Scorpio," McCullough said in a statement. "It is so flattering to know that, after all these years, GH fans are still excited about Robin coming back to Port Charles. I can't wait to be back with my family again."

A General Hospital fixture from 1985 through 1997, McCullough made occasional appearances following her exit from the show. Her most recent GH appearance was for Lila's funeral in 2004. Prior to that, McCullough and her alter ego crossed over to ABC's All My Children for several episodes to visit her on-screen mother, Anna Devane.

In an upcoming storyline, Robin -- who is still living in Paris -- gets information that she is urgently needed back home. Upon her arrival, she immediately finds herself crossing paths with former flame Jason Morgan and others from her past.

McCullough's return is scheduled for Wednesday, October 12.