GH has released Kari Wuhrer from the role of Reese. What is your reaction?


I'm glad. I wasn't really a fan of Wuhrer's work as Reese.
43%
I'm upset. I really thought Wuhrer was a great find for GH.
34%
I'm disappointed, but Reese's purpose really had faded.
10%
It doesn't matter to me what GH does with Reese/Wuhrer.
9%
Other
5%
Reese is a good character. Maybe GH should recast.
0%
I don't believe the reports that Wuhrer is out.
0%
Poll Posted: September 15, 2005
In another surprise firing from the ABC soap, Soap Central has learned that actress
Kari Wuhrer
(
Reese Marshall
) has been let go from General Hospital.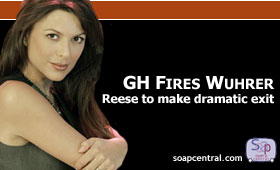 "Kari's time with General Hospital is coming to an end shortly," read a statement on Wuhrer's official web site confirming the news.
No further details were given.
Wuhrer joined the cast of General Hospital in February 2005 as the "real" Carly Roberts. Her previous acting credits include a run on the sci-fi series "Sliders" and as co-host on the MTV game show "Remote Control."
An ABC spokesperson was unavailable for comment. A final airdate was not originally available, however, Soap Central has since learned that Wuhrer will last air on November 14, 2005. The role of Reese will not be recast.