Despite all the buzz to the contrary, Ingo Rademacher (Jasper "Jax" Jacks) and ABC have reached a deal that will extend the Aussie actor's stay on General Hospital.
A short, but to-the-point message on the actor's official web site confirmed the news.
"Yup it is official," the statement read. "Ingo is staying on the show for another year!"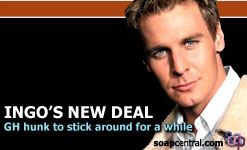 The announcement silences talk that the actor planned to exit the show. The first hint that actor might want to leave his fictional life in Port Charles came in September 2004 when Rademacher told Australian publication The Sunday Mail that he was "burnt out" and wasn't sure if he wanted to remain in the United States.
Though Rademacher dismissed the statement, those previously published words resurfaced in March 2006 as his contract with the show started to draw to a close. Rademacher offered no comment on the rumors and ABC remained silent, as it is not network policy to discuss contracts or rumors.
Rademacher made his debut on General Hospital in 1996 and - with the exception of a one-year break in which he appeared in the short-lived primetime soap, Titans - has been with the show ever since.