This summer, General Hospital is about to go where few daytime soaps have gone before - primetime. In an announcement made today, SOAPnet, the Disney-owned cable channel, revealed that it will air a limited-run GH spinoff in primetime later this year.
SOAPnet has given the go-ahead to 13 episodes of General Hospital: Night Shift. Night Shift -- which is currently a working title and may be changed by the time the show hits the air -- will mark the first foray into serialized drama for SOAPnet. To date, SOAPnet's core content has been comprised of same-day repeats of ABC's daytime lineup - All My Children, One Life to Live and General Hospital - and The Young and the Restless and Days of our Lives as well as "classic" daytime and primetime soaps and soap-related specials.
"We are committed to growing the soap genre and the General Hospital franchise by expanding its storyline only on SOAPnet," Brian Frons, President, Daytime, Disney-ABC Television Group, said in a statement. "General Hospital: Night Shift will launch with an audience that is already dedicated and compelled to know more about what happens on the night shift at the hospital."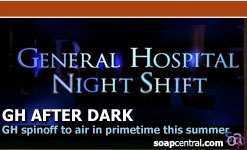 According to a SOAPnet spokesperson, Night Shift "will delve deeper into the relationships, friendships and medical cases seen at the hospital."
Unlike storylines on its daytime counterparts, Night Shift's stories will be self-contained and wrap up during each weekly one-hour episode and will be understandable to viewers who do not watch General Hospital. The format is designed as a way to attract younger viewers to both SOAPnet and General Hospital. To accomplish this goal, Night Shift's characters will be plucked from General Hospital's history and will be mostly comprised of younger characters with ties to GH's core families.
Due to the fact that the sets have already been constructed, the show will be a cost effective way for SOAPnet to launch its first almost-original scripted series. There will also be no need for expensive ad campaigns to promote the series, since ABC can easily refer soap fans to SOAPnet through commercials during its daytime lineup. Like SOAPnet, ABC is also owned by Disney.
General Hospital's behind-the-scenes executives - executive producer Jill Farren Phelps and head writer Robert Guza Jr - will serve in the same capacity on Night Shift.
Night Shift will mark the second spinoff series for General Hospital. ABC launched a 30-minute spinoff, Port Charles, in 1997. The show, dogged by low ratings, went off the air in 2003 but remains in reruns on SOAPnet.
A premiere date has not yet been announced for Night Shift.