General Hospital's Annie Wersching (Amelia Joffee) will be exiting the ABC soap for a leading role on the Emmy-winning FOX primetime series, 24.
Some fans will recall that Wersching parted ways with General Hospital earlier this year. The short-term exit was agreed upon in order to allow Wersching to film a pilot for the series, Company Man. During her absence, actress Darby Stanchfield temporarily assumed the role of Amelia. Upon the conclusion of the primetime project, Wersching returned to Port Charles.
Company Man was not picked up for the fall season and was slated to air as a two-hour made-for-television movie.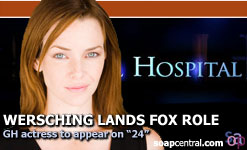 Fans will remember that a February Sweeps storyline stunt on General Hospital borrowed heavily from 24. Wersching, however, was not involved in that plot. The FOX series' entire season of about 24 episodes (there are two-hour specials that typically start and end the season) takes place over the course of 24 hours. Each episode corresponds to 60 minutes of time. General Hospital's Sweeps plot featured 16 episodes, each of which corresponded to a 16-hour period that led up to an explosion of the Metro Court hotel.
24 stars Emmy winner Kiefer Sutherland. Wersching will appear as series regular Agent Renee Walker and appear opposite of Sutherland. The actress starts filming on September 7. 24 will premiere on FOX in January.
There is currently no word on how ABC will handle Wersching's exit.