For the better part of the past three months, General Hospital fans have wondered if three-time Emmy winner Rick Hearst (Ric Lansing would be leaving the ABC soap. With Hearst's contract set to expire at the end of October, fans have been worried about the actor's future with the ABC soap. The actor didn't do too much to allay those fears during this year's GH Fan Club Luncheon held this summer.
"I've got three months left on my contract," Hearst commented in July. "We'll see if it's in the minds of our creators if I'll get a chance to go further. It would be nice. We'll see what happens."
Though talks went down to the wire, a General Hospital spokesperson has stepped up to calm fan's jittery nerves. Hearst has signed a new contract with General Hospital and will "continue with us for the foreseeable future."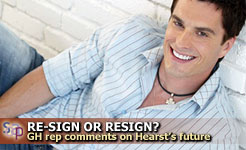 In fact, the show's writers apparently already have plans to test out a romantic pairing between Ric and Sarah Brown's Claudia Zacchara. While the network broke form in announcing that Hearst had re-upped with GH, it held true to its policy not to comment on rumors about future storylines.
Hearst joined the GH family in November 2002. For his work on General Hospital, Hearst has twice been named Outstanding Supporting Actor at the Daytime Emmys. Those wins came in 2004 and 2007. Hearst picked up an Outstanding Younger Actor Emmy in 1991 for his role as Alan-Michael Spaulding on CBS's Guiding Light.
In addition to his roles on General Hospital and Guiding Light, Hearst has also appeared on The Bold and the Beautiful, Days of our Lives, and The Young and the Restless.