General Hospital fans have been whispering about Dante, the long-lost son of Sonny Corinthos and Olivia Falconeri, since last summer. During that time, the names of two Daytime Emmy winners have been brought up as actors reportedly being considered for the role. Still, Dante remains off-screen.
Things heated up this week when it was reported that two-time Emmy winner Tom Pelphrey (ex-Jonathan Randall, Guiding Light) is relocating from the East Coast to California. This has led to speculation that the move is in some way related to General Hospital. Pelphrey's name first popped up as a potential Dante in the final weeks of summer. It seemed like a done deal until Pelphrey reportedly issued a statement expressing his desire to try projects outside of daytime television.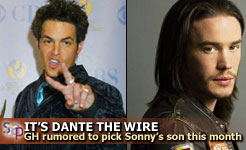 Not so, according to Soap Opera Digest. The magazine states that Pelphrey is headed west to look for a new job -- but implies that the future gig has not yet been determined. That would seemingly rule out ABC's General Hospital as a done deal.
Meanwhile, show sources still say that their first casting choice for the role of Dante is David Lago (ex-Raul Guittierez, The Young and the Restless). Lago's name did not emerge as a possible Dante contender until a full two months after Pelphrey's name started making the rounds. Lago is said to have become the leading candidate after Pelphrey rejected an overture by ABC.
Though speculation about Dante has been going strong since September, General Hospital's casting department seems unwilling to make a hasty decision about who will play the role. A show source says that a decision will not be made until later this month -- and that could include not casting the role at this time.