It's a sign of the economic times. As Americans are less likely to plunk down $6 for a cup of java, General Hospital is also cutting back on its Coffee. Claire Coffee (Nadine Crowell) will soon be checking out of General Hospital. The actress, who admits that she suspected her days were numbered, has confirmed her ouster in a statement on her official web site.
"I sort of figured this was coming, but wanted to be absolutely certain until I relayed the news," Coffee stated. "I have been taken off contract, effective February 8. It's a mutual decision."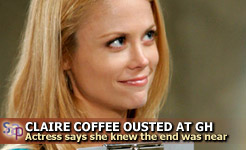 Published reports, however, have indicated that the decision to let Coffee go was more the show's decision than the actress'. With Emmy winner Natalia Livingston (Rebecca Shaw; ex-Emily Quartermaine) back in Port Charles as a probable love interest for Nikolas, the decision to phase out Nadine seemed imminent. Though some online fans have speculated that the actress' alter ego might die in the ABC soap's upcoming biotoxin storyline, Coffee is somewhat cryptic about her future.
"I completely understand the stresses of the producers and writers and the Nadine storyline seemed to be coming to a close," Coffee added. "I won't be exploding in a ball of hospital flames, but you probably won't see me much around the hospital, either."
Coffee joined the cast of General Hospital in October 2007 as a recurring player. The show's writing team seized the opportunity to use the new character in front burner story, and, in February 2008, Coffee was placed on contract with the show.