Anthony Geary (Luke Spencer) will be sticking around Port Charles for the foreseeable future. Despite the trend in daytime to ditch long-time players, Geary recently inked a new contract that will have him staying out in the role he created more than 30 years ago.
The news was apparently monumental enough to make the show temporary part with its policy of not commenting on the contract status of its stars.
"Of course we are thrilled!" beamed a spokesperson for General Hospital, though the rep declined to say exactly how long Geary's new deal lasts. "He'll be around for a while."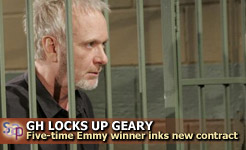 Geary is among the winningest performers in the history of the Daytime Emmys. He has five Emmy wins in the Outstanding Lead Actor category, with his first dating back to 1982 and his most recent coming just last year. In addition to his wins, Geary has an additional six nominations.
In addition to nearly a dozen films and countless primetime guest-starring roles, Geary also has another daytime role in his portfolio. In 1973, Geary made a stop on CBS's The Young and the Restless, where he played George Curtis.
Geary joined the cast of General Hospital in 1978, but he exited the show in 1984. Seven years later, he returned - but not in his iconic role. No, for a two-year period beginning in 1991, Geary portrayed Bill Eckert, a look-alike cousin of Luke. Geary returned full-time as Luke in October 1993 and has remained a full-time member of the GH cast since then.