General Hospital will be sporting a brand- new look just in time for May Sweeps: the longest-running ABC soap will be broadcast in high-definition. The change will make General Hospital only the second soap opera to broadcast in HD. CBS's The Young and the Restless has been broadcasting in high-definition since June 2001.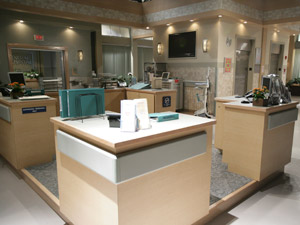 Why has it taken nearly eight years for another soap to go hi-def? Simply put, it's not cheap to make the transition. According to trade publication, Broadcasting & Cable, ABC shelled out in excess of $3,000,000 -- yes, three million dollars -- to make the move to the higher quality production value. As soap fans know, daytime budgets are already pinched so as it is, so finding extra cash to switch General Hospital to high-definition wasn't easy.
Fortunately, there were some ways for ABC to trim its costs. As reported earlier this year, General Hospital already had plans in motion to rebuild its famed hospital set with a much more modern feel. The change was facilitated by a storyline earlier this year that had portions of the hospital damaged in an explosion. Production designer Chip Dox created the new set, and it will feature a new nurses' station, an emergency room, hospital rooms, elevators, and stairs. Though it had been rumored for years, the show refused to confirm the transition to high-definition at the time.
To help along the process, ABC was able to repurpose some of the sets that had been created for GH's primetime SOAPnet spinoff, General Hospital: Night Shift. The new set will have 14 different pieces and, according to Brian Frons, president of daytime for the Disney-ABC Television Group, "will allow the realism of General Hospital to grow bigger than it's ever been."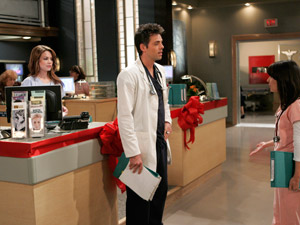 As you might expect, there is a lot more involved in the transition to high-definition than just flipping a switch. Broadcasting & Cable reports that ABC purchased seven hi-def cameras and installed an entirely new control room as part of the upgrade. The new system has enough storage room to save 20 to 30 episodes for later editing. That's about a full month of episodes!
The lighting on the set also had to be swapped out. For those with a decidedly tech-heavy interest, less overhead light is used when filming in HD. Frons says it will give the show a more primetime feel. The show's makeup artists will also now have to experiment with using a more subtle makeup technique. In hi-def, less is apparently more.
As for the remaining two soaps, Frons hints that ABC's entire daytime lineup -- finances willing - could be broadcast in high-definition within two years. Meanwhile, the high-definition revolution hits Port Charles on April 23.
Photo: Adam Larkey/ABC