Emma Samms (Holly Sutton Scorpio) will once again return to General Hospital, reprising the role she made famous in the 1980s. This marks the actress' second return engagement in three years, after having been away from the ABC soap for more than 20 years.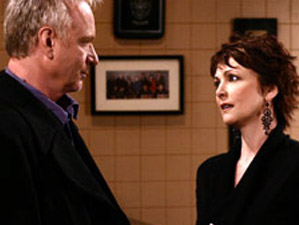 There has been speculation for several weeks that a return visit by Samms was imminent. The chatter started when Port Charles newcomer, Ethan Lovett, revealed that he was essentially parentless after his parents dumped him. Astute viewers have also noticed chemistry between actor Nathan Parsons (Ethan) and Anthony Geary (Luke Spencer), which has prompted some to wonder if their characters will share some sort of connection.
Upon returning to General Hospital in 1996, Samms made it clear that she was extremely happy to be returning to her daytime roots.
"I'm so thrilled to be visiting Port Charles again. Among the many jobs I've had over the years, General Hospital has always been close to my heart," Samms said in a statement at the time.
For its part, ABC was equally overjoyed to have the actress return. ABC Daytime's head honcho, Brian Frons, said he was "thrilled that an accomplished actress like Emma [would] will be returning to reprise such a legacy character."
After leaving General Hospital in 1985, Samms went on to appear on the primetime soap, Dynasty, and later starred in the Dynasty spin-off, The Colbys. In addition to her soap-related work, Samms has appeared in numerous made-for-television movies and guest-starred on countless primetime series.
Samms latest visit begins on May 11. The return is a short-term, two-week engagement. Samms will exit again on June 2.