Rick Hearst
(
Ric Lansing
) is leaving General Hospital -- for good. Last month, the three-time Emmy winner was dropped from his contract with General Hospital. At the time, it was reported that Hearst had agree to appear on a recurring basis or as needed by storyline. Almost immediately, reports that the actor was being sought out by other soaps began to emerge.
"We're saddened for GH fans but personally thrilled for Rick. We wish him nothing but success. Rest assured that the character of Ric Lansing will have an exit you won't want to miss," a GH spokesperson told Soaps In Depth.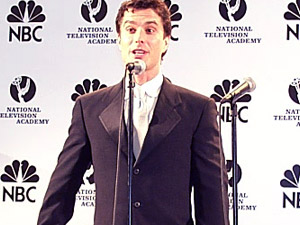 It appears that the rumors of Hearst being in talks with other shows are true. There was initial speculation that Hearst might return to Guiding Light, where he played Alan-Michael Spaulding for six years. The return would make sense, considering CBS's recent announcement that it was canceling the 72-year old soap. DaytimeConfidential.com reported that, "Negotiations with Rick Hearst are 'damn good' and his character will have an impact on the Spaulding family."
Now, Hearst will return to The Bold and the Beautiful. TVGuide reports that Hearst will be reprising the role of Whipple Jones, a role he played to little fanfare for a few months in 2002. He will first air on on July 17.
It's unclear why talks between Hearst and Guiding Light have apparently broken down.
A spokesperson for The Bold and the Beautiful would not comment on Hearst's possible return to the show.
Hearst made his General Hospital debut in November 2002.
Photo Credit: Dan J Kroll/Soap Central