For months, it was like an updated refrain from The Brady Bunch. Dante, Dante, Dante! Two Daytime Emmy winners were rumored to be up for the General Hospital role, but as time passed, it looked less and less likely that Dante would ever show up in Port Charles. Now, the need for speculation is over -- Dante is already in town!
On June 22, newcomer Dominic Zamprogna debuted as Dominic, a man hired by Claudia to kill Jason Morgan. In the days and weeks ahead, viewers will learn that Dominic is actually Sonny Corinthos' here-to-unseen long-lost son, Dante. Zamprogna's name may surprise Soap Central readers, who for months have been reading that either Tom Pelphrey (ex-Jonathan Randall, Guiding Light) or David Lago (ex-Raul Guittierez, The Young and the Restless) would be signed to the part.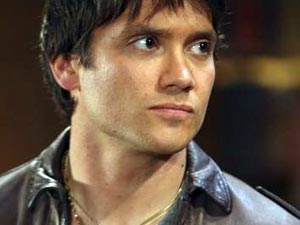 Here's what we do know. According to sources, General Hospital's casting department was initially unable to sign the actor that they wanted for the role. The show then changed course and focused on bringing back Sonny's other "son," Michael.
Exactly who the GH casting department was unable to sign remains a mystery. Statements from Pelphrey and Lago haven't exactly made the situation any clearer.
Despite reports that the former Y&R star had tested for the role of Dante, in an interview with Soap Opera Digest, Lago insisted, "No one at General Hospital contacted me. I would have been happy to discuss it, but I never heard from them."
Pelphrey, meanwhile, relocated from the East Coast to California, and it seemed imminent that he'd join the General Hospital cast. Pelphrey, however, debunked that theory with a single statement.
"There have been discussions in the past, but it's something right now I'm not exactly looking to do," Pelphrey told We Love Soaps.
That seems to be when the Canadian-born Zamprogna entered the picture. Zamprogna has appeared in the 2004 update of Battlestar Galactica, the television adaptation of The Neverending Story, and the 1990s Nickelodeon mystery series, Are You Afraid of the Dark?
Zamprogna first aired on June 22, 2009.
---