Sarah Brown (Claudia Zacchara) will exit General Hospital this fall, Soap Central has learned. The news comes as the actress hinted that her time on the ABC soap would soon be coming to end.
On her official Twitter page, Brown tweeted the following message, "All the news that is fit to print. Claudia Zacchara has been a wild ride, every ride stops when the music ends. The music stops mid-[October]. It's been nice being back at GH, but it's time for the character to come to an end, at least for me."
Meanwhile, a General Hospital spokesperson confirms to Soap Central that Brown is, in fact, leaving the show.
"I can confirm she is leaving General Hospital," the spokesperson states. "Her departure from Port Charles will be buzz-worthy for November sweeps... Stay tuned as we move towards Claudia's exit from the canvas."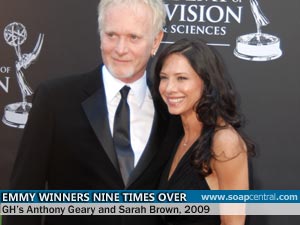 Brown's initial tweet had many fans speculating on how the show would write off the character. Will Claudia meet with an untimely demise or will her exit be brought on by someone else's?
Last year, there was growing speculation that Brown might growing tired of her second Port Charles persona. Reports surfaced that the actress wasn't happy with the direction of her character. However, in November 2008, the Emmy-winning actress reupped with the show. The actress acknowledged that future story weighed in her decision, but she also ceded that job security also played a part.
"Re-signing for me this time around was dependent on several major things -- What's happening in the economy? Who would be writing the show this year and what kind of story did they have in mind for me?" Brown told TV Guide. "I like having a steady job. It's nice for a change, and that was a big part of the reason I decided to stick around."
As for what's ahead for Brown after she leaves daytime, the actress hints that she's already booked her next gig.
"[I] Have a film in the works for November -- a lead role to die for -- and we shall [see] what else comes up," Brown adds.
This, of course, is not Brown's first stint on General Hospital. She appeared previously as Carly Corinthos from April 1996 through April 2001. For her work as Carly, Brown was awarded three Daytime Emmys: Outstanding Younger Actress in 1997 and 1998, and Outstanding Supporting Actress in 2000.
Brown rejoined the cast of General Hospital as Claudia in January 2008.
Photo Credit: Brandon Gonzales/Soap Central