It looks like General Hospital fans will have to wait a little while longer to see soap vet Matt Borlenghi's first appearance in Port Charles. The actor's previously reported General Hospital debut has been postponed for an indefinite period of time.
Borlenghi was to have made his first appearance on General Hospital on Wednesday, October 14, in the newly created role of "Valentin." Whenever a show announces the impending arrival of a character without a last name, Soap Central's message boards erupt with a flurry of activity as fans try to figure out why the character's last name is being withheld.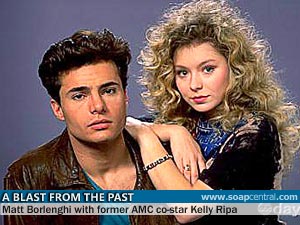 Well, it looks like there is good reason for the mystery: Valentin is a here-to-unknown member of the Cassadine family. How he fits in -- and whether or not this will, as previously hinted at by Soap Central, mark a resurgence of Cassadine activity in Port Charles -- remains to be seen. In a surprise move, however, the show is putting the brakes on Valentin's arrival even as it reportedly looks to cast additional Cassadines.
"Matt's arrival in Port Charles has been postponed for creative reasons... stay tuned for him later this year, but not in mid-October as originally planned," the spokesperson tells Soap Central. A network rep declined to confirm Valentin's Cassadine bloodline.
Borlenghi is well-known to daytime viewers. Beginning in 1991, Borlenghi -- who then went by Matthew Borlenghi -- appeared for five years as All My Children's Brian Bodine. His work on All My Children garnered him an Outstanding Younger Actor nomination at the Daytime Emmys in 1993. In 2002, Borlenghi appeared as Ziggy Deadmarsh on CBS's The Bold and the Beautiful. Last year, Borlenghi appeared in the short-term role of Mayor Anthony Marino on Days of our Lives.
This is not the first time that Borlenghi's name has been attached to General Hospital. About seven years ago, Borlenghi reportedly tested for the role of "Aiden," a character that was being developed as a love interest for Elizabeth Webber.
General Hospital is expected to address the Spencer-Cassadine feud by spring.
Photo Credit: Brandon Gonzales/Soap Central