ABC has announced that Golden Globe winner James Franco will soon be joining the cast of General Hospital in the aptly named role of "Franco." Franco, who has appeared in nearly two dozen motion pictures over the past nine years, will take on a short-term role that begins during the November Sweeps period.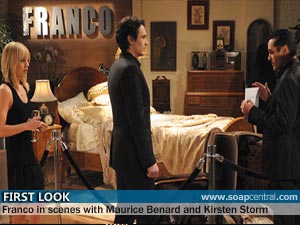 "We are thrilled to announce that James Franco will play an integral part in a lengthy run on General Hospital this fall," General Hospital's executive producer Jill Farren Phelps said in a statement. "It's an honor that an actor of James' caliber would choose to spend some of his valuable time in Port Charles."
At a time when budgets are stretched as tight as a spandex bikini on a hippopotamus, some fans will undoubtedly wonder how ABC convinced the star of box office blockbusters to appear on a daytime soap. Hang onto your stethoscopes, GH fans: Franco actually approached General Hospital about the gig. The actor is reportedly using his stint in Port Charles as research for an upcoming film in which he'll play a soap star.


"I'd to like add that there's open invitation to any of his A-list costars to come on GH and try their chops in the soap world," Jori Petersen, a spokesperson for ABC Daytime and SOAPnet, told Entertainment Weekly.
Not much is known about Franco's General Hospital role. The network revealed only that Franco will be playing a "mystery person." The character, however, is expected to interact with nearly every other character currently on the canvas -- particularly Jason Morgan.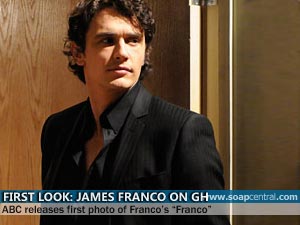 Franco earned his big break on the NBC comedy Freaks and Geeks. From there, Franco went on to appear on films like Annapolis, the Spiderman trilogy, and Pineapple Express, for which he received a Golden Globe nomination as Best Performance by an Actor in a Motion Picture. In addition, Franco received numerous other honors for his work in the Oscar-nominated film, Milk. His next project is the film Howl, due out next year.
Adding to the hype of Franco's addition to the GH cast is a tweet claiming that Emmy-winning former General Hospital star Vanessa Marcil (Brenda Barrett) "would consider going back [to General Hospital] to work with him."
Franco first airs on November 20. He is expected to remain in Port Charles for about two months, though he will tape all of his scenes over the course of two weeks.