This week, James Franco makes his much-anticipated debut as the mononymic Franco. His appearance -- he's officially being called a "special guest star" by ABC -- is being heralded by some media outlets as the way to save daytime. Will the Golden Globe winner's stint on General Hospital equate to higher ratings and a renewed appreciation of daytime television?
News of Franco's decision to join the ranks of daytime's hardworking actors and actresses was met with shock and even some ridicule from many mainstream outlets. Several articles in notable publications used the ubiquitous Internet acronym, "WTF?" If you're not familiar with the abbreviation and don't have any kids in your household, let's just say that it's safe to say that it does not mean "Why there, Franco?"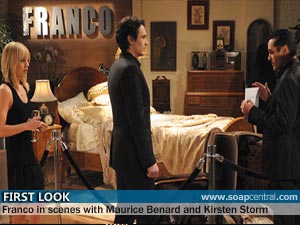 On the Internet, fans and critics alike bemoaned Franco's decision to work on a "lowly" soap opera as something from which his career would never recover.
In an interview with Movieline.com, John Carter, Franco's frequent artistic collaborator who works professionally under the name "Carter," downplays criticism of Franco's sojourn into soap operas.
"People are very critical. Obviously, someone like James Franco -- someone who's not starting out -- does not necessarily have to be on a soap opera," Carter states. "I think this notion of 'Why would he dare do something like that? It's a career killer!' is silly. Liz Taylor was on General Hospital, for crying out loud! For James, it's much more of a challenge, and that's to his credit. It's a challenging thing to be on a soap opera -- it's a lot of work, it's a lot of memorization. In the context of him, again, this is not something he would have to do, but it's something interesting to him."
For his part, Franco has been very supportive of daytime television. There's been no mocking of storylines nor has he talked down about the performers.
"They gave me a script for the day that was as thick as a film script and that's what we planned to shoot in a single day. No ad-libbing," Franco told New York Magazine in recalling his first day at work on the ABC soap. "If I needed it, they said they had a TelePrompTer, but the regulars didn't use it so I didn't want to use it, either. Anyway, I'm pretty good at remembering lines. "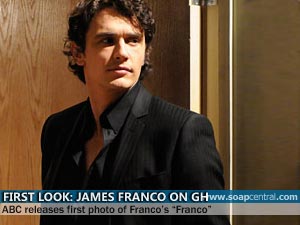 It should be noted that it was Franco's decision to approach General Hospital about a possible job - no one at ABC sought out the actor. Working on General Hospital is apparently a way for Franco to immerse himself in the genre in preparation for an upcoming film project. Exactly what that project is remains a secret -- and Carter and Franco have so far declined to offer any additional details.
In an interview with the Wall Street Journal, Jill Farren Phelps, General Hospital's executive producer, admitted that there was a time when it crossed her mind that someone might be trying to "punk" her about Franco's interest in joining the Emmy-winning soap.
"We weren't sure if it was going to happen, even after being consistently reassured. But we made the plane reservation and [Franco] showed up - and could not have been nicer or more humble; he was willing to do whatever we asked," Phelps revealed. "He had over 65 pages of material to do in the one day, so it was a very long day, but his demeanor was completely professional. We told him that if he ever wants to give up film acting, there's always a home for him in Port Charles."
Franco hasn't said that he wants to hang up his movie star status, but a cryptic comment has many wondering if he will still somehow be involved in the soap genre in the future.
"I've got other ideas for my participation in this soap opera beyond just being in this soap opera," Franco remarked.
If Franco's one-named mystery character hasn't gotten you intrigued, that statement surely will.
Franco makes his first appearance on General Hospital on Friday, November 20. He is expected to air in about a dozen episodes.
---