Could General Hospital soon be welcoming back two of its Emmy-winning former stars? It certainly looks that way. According to a published report, the folks at ABC have approached both Genie Francis (Laura Spencer) and Vanessa Marcil (Brenda Barrett) about returning to the show.
"We have actually been in contact with Vanessa, and there is interest on both parts in seeing Brenda return," General Hospital's head writer, Robert Guza, Jr., told Soap Opera Weekly.
If the statement sounds familiar, there's good reason for it. By now, Soap Central readers know that this isn't the first time that General Hospital and Marcil have tried to find a way to work together. It doesn't hurt that Guza has repeatedly referred to Marcil's alter ego as one of his favorite characters to write for. Perhaps more than any other performer in daytime history, Marcil's name repeatedly comes up as someone whose return to daytime is imminent.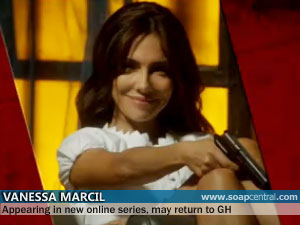 One year ago this week, Marcil revealed that she was "trying to make [a return] work." When the actress landed a recurring role on the CBS drama series, Without a Trace, the chance of any possible return was dashed. Five months before that, Marcil was snatched up by NBC's Lipstick Jungle before a deal could be reached to have her head back to Port Charles.
Marcil originated the role of Brenda in September 1992. She quickly became one of General Hospital's breakout stars. In 1998, Marcil left the soap to pursue other opportunities. She quickly landed a role on Beverly Hills, 90210, and remained with the primetime soap for two years. In 2002, Marcil returned to General Hospital for a short-term engagement. The result of that five-month return was Marcil's first-ever Daytime Emmy award.
For more on Genie Francis' possible return, click here to read our related news story.
Marcil is currently unattached to any primetime projects, so the timing couldn't be better for a possible return. The actress is, however, working on a new online project called The Bannen Way. In the web series, Marcil plays Madison, a con artist. The Bannen Way makes its official debut on January 6.
A General Hospital spokesperson notes that "Nothing is definite yet. Of course we'd always love to have them back, but at this point, it's still a work in progress. We definitely want them, so stay tuned for 2010."
Photo: crackle.coM
---

RELATED STORY
General Hospital in talks with Genie Francis about a possible return. [Jan 4, 2010]