Rebecca Herbst (Elizabeth Webber) and husband Michael Saucedo (ex-Juan Santiago) will soon be welcoming another addition to their family. The couple is expecting their third child later this year.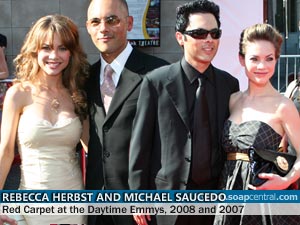 Knowing that soap fans have good reasons to question paternity tests, DNA results, and pretty much anything else done in a hospital, Saucedo actually tweeted a picture of Herbst's pregnancy test.
Herbst and Saucedo were married in 2001, after having met through their work on General Hospital. The couple has two children already: eight-year-old Ethan, and Ella, who is five.
One of Herbst's previous pregnancies was written into the show. In 2004, Liz became pregnant with Cameron. There is no word on whether or not GH will work Herbst's pregnancy into the show this time around.
Herbst joined General Hospital in August 1997.
Photo Credit
: Dan J Kroll/Soap Central
---

RELATED STORY
So-to-be GH star welcomes twin boys
---