Another member of General Hospital's younger set will soon get a new look. The ABC soap has announced that it has opted to recast the role of Morgan due to an apparent scheduling conflict.
"Due to a scheduling conflict with an upcoming pilot for Aaron Refvem, Aaron Sanders has now been cast in the role of Carly and Sonny's son, Morgan."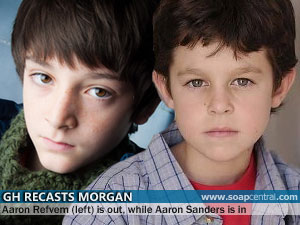 The official announcement comes after Refvem told fans that he didn't expect his primetime work to interfere with his work on the soap.
"No one has told me I am definitely getting recast. Last I heard, it was all working out [for me] to stay," Revfem posted on Twitter. "If the pilot gets picked up, then GH may have no other choice. We will all see how it shakes out. One day at a time. I love it at GH!"
Refvem's last day on the General Hospital set was March 30.
Refvem's primetime pilot, an ABC comedy called The Little Piggy, is currently in the early stages of production. It stars R&B singer-and-actress Brandy Norwood. No official announcement has been made on the future of the pilot.
The new Morgan, Aaron Sanders, has a handful of feature film and primetime projects under his belt. He's apepared on CSI: Miami and voiced one of the characters in the new film Diary of a Wimpy Kid. He appeared previously in a bit part on Passions, but the GH role will mark his first regular daytime role.
--->
---
---